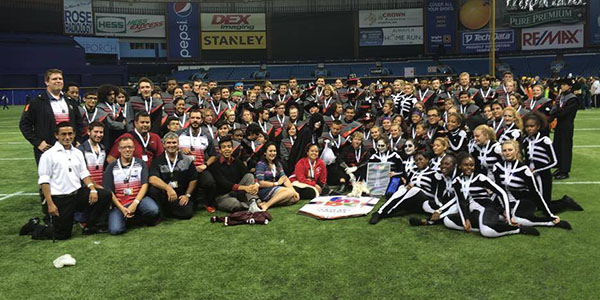 For the sixth year, the Palm Beach Central High School Bronco Marching Band achieved placement at the semifinals and again advanced to the finals at the Florida State Marching Band Competition (FMBC) held at the Tropicana Dome in Tampa last weekend.
The Bronco Band walked away with a second place championship victory. Performing in Class 3A, band members won the hearts of the judges with outstanding music and their creative show titled "10:31."
Adam Yorke, a former percussion member, expressed his pride. "Congratulations to the Bronco marchers on the silver medal finish on quite the unforgettable season. Words can't describe how proud I am of all of you," said Yorke, who, like so many other band alumni, return to the school each season to work and volunteer with the band.
Director James Yaques was especially proud of his band for all of their hard work and dedication this season. The win meant more to many of the students, as it was dedicated to teacher Matt Jensen, who died earlier this month.
"Today, the Bronco marchers, 75 percent of whom were students of his, are dedicating their performance to the memory of Matt Jensen," Yaques said. "Matt was their middle school band director and gave them the gift of music. They decided to make the ribbon blue, Matt's favorite color. I know Matt would be really proud of them."
Missing out on first place by only a few points, the Bronco Band looks forward to another chance at returning to the dome next season.
For more information on how to become involved with the band through fundraisers or donations, visit www.pbcbroncoband.com.
ABOVE: Band directors James Yaques and Luke Basso pose with band members and staff after the second place win.