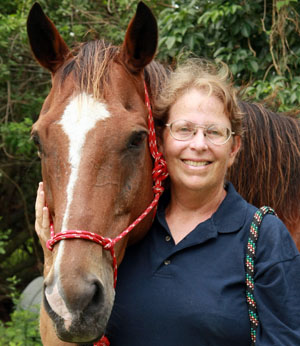 TALES FROM THE TRAILS
The youngest of five children, Robin Shehan grew up in Easton, a little town in Maryland. When two of her older sisters started riding, Robin decided to give it a try as well. She started off riding hunters with a local pony club, then did some eventing.
"I was always a good athlete," Robin said. "I loved field hockey and track and field. Swimming was a special passion, and I competed in regionals, nationals and the Junior Olympics. I was a ballet dancer, off and on, for 25 years, working with several minor dance companies across the U.S. I even studied ballet in Russia for a month in 1991."
But horses were always a special part of her life, and soon enough she was riding again. This time it was dressage.
"I'd been into dressage a bit in my early 20s, when I attended Morven Park International Equestrian Institute," Robin recalled. "We did some jumping, but there was a lot of emphasis on dressage. I always knew it was something I wanted to do."
In 2004, Robin began working with trainer Kelley Corrigan, who lived 40 minutes from her. The two clicked right away, and Robin began riding Marsaelis, a 14-year-old Danish Warmblood. "I didn't have the money to buy a horse like that, but my family stepped in and helped me out, buying him for me," she said. "We started at fourth level, and went all the way through Grand Prix. We competed at the national and international level, and I eventually became a USDF gold and silver medalist."
Marsaelis holds a special place in her heart.
"He was a very good horse, a quality horse, so special. He always did his best. He took me a long way. He had the biggest heart," Robin said. "I remember our very first Grand Prix down here. I was nervous and excited, but he got us through in good order. It's hard to do really well here in Wellington. There are a lot of really fancy horses."
Marsaelis retired when he was 18.
"He was getting older and had a little arthritis," Robin said. "By then, we were amateur adult regional champions. I still rode him a couple of times a week until he was 22. He started having bad hip problems. It got so that he was struggling to stand up. He'd fall down and be unable to get up again. I finally had him put down earlier this year."
Robin stops and sighs heavily, tears welling in her eyes. The loss is still too close, too painful.
Her cottage off of D Road in Loxahatchee Groves, set on 5 acres, is modest and comfortable, and filled with pictures of her and her horses. She offers training, lessons and boarding. She likes that she can look out any window and see her horses. Her new barn is right there as well, and there are other horses in the stalls.
Lady Calvert, a 5-year-old chestnut Hanoverian mare, is quite a handful.
"She is always ready to rock and roll. Almost two years ago, she bucked me off and broke my ribs," Robin said. "That's when I started working with trainer Gary Smith. He has helped me get through all this stuff.
He's very good with challenging horses like Lady Calvert, who has a bit of a temper and throws tantrums now and then."
Working with Lady Calvert was a slow process.
"Gary and I started all over with her, working through the baby stuff. She was very young and green," Robin said. "Now she's really fantastic and competing at training and first level. She likes going to shows, getting off the farm and seeing the world. Things are coming together for us. We'll go as far as she can."
Robin has a few other horses as well. Daisy is a 23-year-old gray mare that Robin picked up from Palm Beach County Animal Care & Control. She was emaciated, had no hair and was a general mess. "Her job is to keep the world calm and happy," she said.
For dressage, Robin's sister Gail bought her Sookie, a 4-year-old Oldenburg mare, and Swagga, a 3-year-old Hanoverian gelding. Another sister, Patricia Anne, bought her Gama Pik, a 5-year-old Hanoverian mare project horse.
"One thing I really like is that all of these horses were born and bred right here in the U.S., the first two at High Point Hanoverians in Chestertown, Maryland, and the third was sent there for training," Robin said. "You don't have to go to Europe. You can look around this country and find some very nice horses."
Robin's grateful for her sponsor, Dressage Sport Boots, which helps with some of her show expenses. "They've been unbelievably generous," she said.
What she likes best about dressage is the connection she feels with her horses. "It's as if all the planets are aligned and we're working as one," she said. "It's a tremendous feeling."
As for the future. Robin hopes to have all of her horses going well. "Always, I hope the horses stay happy, healthy and sound," she said. "We go as far as we can go, and enjoy life one day at a time."
For more information, call Shehan at (410) 310-1291.