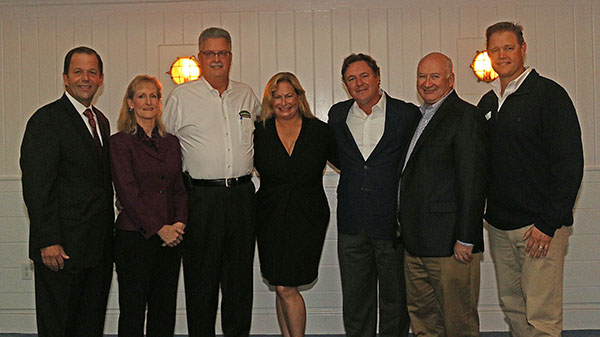 With upbeat, optimistic presentations, leaders of the local equestrian community addressed members of the Wellington Chamber of Commerce during a luncheon held Wednesday at the Wanderers Club.
Featured speakers included Mark Bellissimo of Equestrian Sport Productions, Marla Connor of the Gulfstream Polo Club, Melissa Ganzi of the Grand Champions Polo Club, Noreen O'Sullivan of Wellington Classic Dressage and John Wash of the International Polo Club Palm Beach.
Sponsor Scott Armand of Armand Professional Services introduced the speakers.
"I don't know about you, but I've been waiting for this day all summer," Armand said, eagerly anticipating the 2015 equestrian season.
Wash, president of club operations at IPC, also looks forward to the upcoming season.
"It's great to be here with all of the different disciplines," he said. "As we've talked about, we all need one another. A lot goes on during the season, and it's great to see so many familiar faces here."
Wash highlighted some of the milestones from last season at IPC.
With more than 12,000 people in the stadium for the final of the 110th Maserati U.S. Open Polo Championship, team Alegria defeated team Valiente 11-10 in overtime.
"The final was broadcast on a tape delay," Wash said. "You may have seen it on NBC — the main network. What I liked about it was not only did the polo teams get the notoriety, but Wellington got mentioned many, many times."
Ticket sales were way up last year, and that's a trend Wash hopes to see continue.
"Ticket sales showed a 152 percent increase over the prior year," he said. "I thank everybody here in the community, in Palm Beach County, for embracing us and continuing to make the equestrian sports disciplines part of their everyday life."
Last year, the club received more than $7 million worth of media coverage, he said, and the club itself brought in a record 42 new families.
Last Thanksgiving, IPC hosted the U.S. Field Hockey National Championships, Wash said, noting that the event went well and he hopes they return soon.
"Next year, in 2016, one thing you need to put on your calendar is that the AYSO National Soccer Championships will be coming back," Wash said. "That will be in the summer of 2016, where over 500 teams, 3,500 athletes and 10,000 visitors will be here in Palm Beach County and Wellington, and we are very happy to continue our active role in our community, civic and charitable endeavors."
The 3 p.m. Sunday polo game, he reminded the crowd, is the only game that that International Polo Club charges admission for. "The rest of the time you can just come on out, tailgate, and enjoy polo," he said.
Kicking off Jan. 4, IPC has a great season planned for polo fans.
"We have a great year coming up, and we have a 21-team commitment so far, so we're looking forward to some great tournaments," Wash said. "And I may be a little premature, but we're in our final negotiations with the United States Polo Association to continue to host the most prestigious tournaments, especially the C.V. Whitney Cup, the Gold Cup and the U.S. Open, through 2018."
Learn more about IPC's 2015 season at www.internationalpoloclub.com.
Bellissimo, CEO of Equestrian Sport Productions, focused on the relationship between the equestrian community and the greater Wellington community.
"I think one of the important messages here is the intersection of all of these great competitions," he said. "I think it's a big testament to all of the different organizers here who run these shows, which are impacting the differentiators of this community with polo and dressage, and now the western discipline with hunter-jumper activity. It is a very unique community in the winter. It's really the efforts by these local organizations that drives interest in the sport."
Bellissimo's company operates the Palm Beach International Equestrian Center and produces the Winter Equestrian Festival and the Global Dressage Festival.
He said that the upcoming season holds great promise.
"We're excited about this season," Bellissimo said. "I think, for all the organizers here, it's probably going to be the strongest season ever. We're seeing dramatic growth in interest in Wellington in our activities."
Equestrian Sport Productions will be running four five-star competitions. "There are five five-stars in the United States, and we will be running four of them," Bellissimo said.
For those who want to get a jump on the season, Equestrian Sport Productions is kicking off its six-show Holiday Series with Holiday & Horses set for Nov. 26-30. The Holiday Series continues until Jan. 4, right before the Winter Equestrian Festival opens.
Also during that time, Equestrian Sport Productions will be hosting Wellington Winterfest, produced by the Wellington Chamber of Commerce, on Dec. 6.
Another special event near and dear to Bellissimo is the annual Great Charity Challenge, which returns in February.
"In the last five years, we've raised $6.4 million for more than 100 charities," he said. "What's great about that number is 100 percent has been distributed and goes to work in our community."
Learn more about Equestrian Sport Productions' shows at www.equestriansport.com.
Ganzi, owner of the Grand Champions Polo Club, has found that the equestrian presence in Wellington enhances and enriches people's lives.
"I am really proud to call Wellington home. I've lived in Wellington since 2001," she said. "My life as a full-time resident of Wellington is greatly improved due to the success of a lot of the people in this room and the community."
The various clubs and horse shows provide venues to attract equestrians, which help make Wellington a friendly equestrian environment, she said.
Each weekend there are free polo matches at Grand Champions, Ganzi said.
"It's a community club," she said. "We try to expand the season to have spring and fall polo so that the community can go on and enjoy polo on a longer-term basis."
Games can also be viewed on the Grand Champions production company's web site, www.chukker.tv. "We live-stream our polo games that are played at Grand Champions," she said, offering to do the same for other clubs in the area.
Learn more about Grand Champions at www.grandchampionspoloclub.org.
O'Sullivan, show manager and managing partner of Wellington Classic Dressage, looks forward to seeing the community fill up with equestrians once again.
"I'd like to open my speech with four words: the Polar Vortex and Wellington, Florida. Clearly Wellington is the place to be when you look at the map and see the record snowfall and the freezing temperatures," she said. "Good news for us: I think that we'll all be seeing many more people, and especially our equestrian friends, flocking sooner and staying here longer. That means more visitors, more year-round residents and more support for our local businesses and our community."
Though seasonal riders are often under the spotlight, the local riding clubs remain important, she explained, though they tend to be left out of the limelight.
"Often, we focus on the high-profile riders who come here for the season, but there are a tremendous number of amateur riders and owners who really spend the money, and they are the backbone of all the equestrian sports," she said.
O'Sullivan said her organization works to include those riders.
"This year, we're hosting a special adult amateur winter challenge to include Gold Coast Dressage, Wellington Classic Dressage and the Global Dressage Festival shows as qualifiers," she said.
Many of the events available in Wellington and the surrounding areas are not feasible in other locales, which makes this location special, she said.
"We live in a great area where we can all enjoy the top equestrian sports, including international polo, show jumping and dressage," O'Sullivan said. "Top events like these make Wellington the crown jewel of our winter season, to bring top riders from around the U.S. as well as worldwide here to compete."
O'Sullivan suggested the ideal weekend starting with dressage Friday night, show jumping on Saturday night and then polo on Sunday.
Learn more about Wellington Classic Dressage at www.wellingtonclassicdressage.com.
Connor, Gulfstream Polo Club's general manager, began by explaining that there is one question everyone seems to ask her regarding the status of her club. To understand, she explained, you need to know where Gulfstream is located.
"We are located on Lake Worth Road and the turnpike. We have been a polo club since 1923, and we've been at this location since about 1964," she said. "We've been there a long time. The number one asked question: Have you been purchased by developers and will you be continuing as a polo club?"
Gulfstream Polo is alive and well, Connor stressed.
"We will be continuing as a polo club," she said. "I'm really glad to say, because we've been around a long time, and we add a lot to the community."
With practice taking place all season long, starting Dec. 14 and continuing until May, visitors can watch the teams prepare on Wednesdays, Fridays and Saturdays, with games typically taking place on weekends.
"We encourage you to come and bring the dogs, bring the kids, there's never an admission charge," she said.
Learn more about Gulfstream Polo at www.gulfstreampolo.com.
ABOVE: John Wash, Noreen O'Sullivan, Scott Armand, Melissa Ganzi, Mark Bellissimo, Michael Stone and Dr. Randy Laurich at Wednesday's equestrian-themed chamber luncheon.