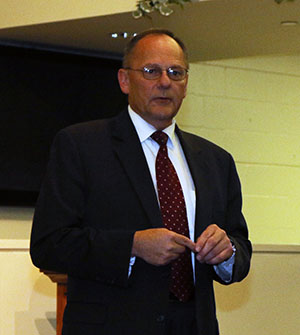 Palm Beach County Inspector General John Carey attended the Loxahatchee Groves Landowners' Association meeting on Thursday, Nov. 20 to discuss the Office of the Inspector General and how it affects citizens.
"What we do is we hold the government accountable for the dollars that the taxpayers give them and for the positions of power that they have," he explained. "We do this through insight, oversight and foresight."
The vast majority of public servants are great people who are trying to do the right thing, said Carey, who has more than 38 years' experience in local and federal government.
The office works by giving recommendations on how to spend money efficiently and do business more effectively.
Oversight, Carey said, is what inspectors general are known for the most, which tends to mean investigations.
"If allegations are made, we investigate those," he said. "In policing, a crime was committed, and then we just have to find the bad guy. In IG work, it's not like that. In inspector general work, somebody makes an allegation. Then it's my job to investigate whether it's true or not."
Carey has found that it is about a 50-50 split on whether allegations are true. He disagrees with the idea that investigating allegations that are not substantiated is a waste of time. "What we're doing there is clearing good people's reputations so they can go about their business," he said. "We have a record of it, so we can set the record straight."
One recent complaint he heard was from a neighbor of a government employee. Every day, the neighbor saw the person's car at home in the middle of the day. They called the office, and it was determined that the employee works a split shift, and was on call during the time that the neighbor saw the person.
"We're able to set the record straight," he said. "We go back to the person who complained and let them know, so they know."
If someone is cheating the government, corrective action is taken.
Foresight is looking ahead and promoting best practices while reducing potential waste in government.
Carey said that the Office of the Inspector General has made impressive changes in the four years that it has existed.
"We have either identified money that is not being used properly, money that has been able to be saved for the taxpayers, or forecasted savings if we stop doing these bad practices," he said, noting that more than $20 million has been saved. "We've listened, we've had more than 6,000 phone calls that have come into the office from citizens and people in government and out of government."
He is proud that the office is an independent organization that can be called in to help solve problems. "We've made almost 400 recommendations to the county and the municipalities on how to make government better," Carey said. "About 400 recommendations with about a 95 percent acceptance rate."
The office currently has 23 people running it, rather than the 40 people that it needs, he noted.
"If you see it, report it," Carey said. "If you see something that's not right, say something. Let us know. I promise you, we'll look into it the best we can. You may not get the answer that you want, but I guarantee we will honestly, objectively and independently take a look at it."
To learn more about the Office of the Inspector General, visit www.pbcgov.com/oig or call (877) 283-7068.
In other business:
• Palm Beach County Sheriff's Office Lt. David Combs updated LGLA members on crime issues in Loxahatchee Groves. As requested by town management, there will now be monthly updates on the crime numbers for the area.
In October, Combs said, there were 47 traffic stops.
"Traffic tickets are not about money," Combs said, explaining that if tickets are written out to the Town of Loxahatchee Groves, Loxahatchee Groves receives $2 per ticket, but if the ticket is written to Loxahatchee, the county receives the money.
"We don't write traffic tickets for money," he said. "I don't care if my guys write a traffic ticket or write a warning. I really don't care. It's not about money. It's about context. It's about keeping crime down."
However, Combs explained, sometimes speeders just seem to want traffic tickets, especially going extremely fast in front of a school.
"We don't write a whole lot of tickets out here, because, the truth is, there aren't a lot of roads where there's real traffic issues," he said. "There's Folsom… one day somebody actually passed me, but she was eight months pregnant and had to go to the bathroom."
Due to a recent uptick in shed burglaries, mostly in The Acreage, Combs issued the following advice: "Lock your stuff up. If you've got sheds, put on a locked chain."
Combs also offered to answer any questions residents have. "If you have questions, call me. Send it to me," he said, explaining that he can't help if he doesn't know about something. "I love when people come in or e-mail me. I may not be able to find the bad guy, but I can get a report and I can look."
• The 2015 LGLA officer nominations began. Marge Herzog was nominated for president, Ken Johnson for vice president and treasurer, Virginia Standish for treasurer and vice president, Becky Carter for secretary, Claus von Grote for sergeant-at-arms, and Diane von Grote as an at-large delegate. One at-large seat is open. The nominations will be brought up again before the election in January.
• The next LGLA meeting will be Thursday, Dec. 18 at 7 p.m., a week earlier than normal, at Palms West Presbyterian Church. There will be a covered dish potluck dinner. Attendees are asked to bring a $5 grab bag or gag gift to exchange. For more information, call Herzog at (561) 791-9875.
ABOVE: Inspector General John Carey at the LGLA meeting.