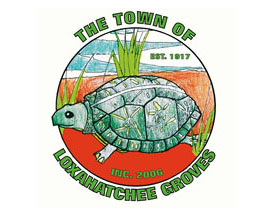 The Loxahatchee Groves Town Council approved the preliminary reading of ordinances Tuesday to allow low-density commercial development on the Day property at the southwest corner of Folsom Road and Okeechobee Blvd.
The council approved a small-scale land use change and zoning for the 10-acre parcel owned by Willy and Franklin Day, which sits east of the 10-acre Red Barn property. The zoning changes the land use from rural residential, one unit per 5 acres, to commercial low to accommodate future development to a maximum of 5.3 acres of commercial use.
Mayor Dave Browning explained that the changes were the result of litigation between the town and the property owners after the council initially refused to approve commercial development on the land, although town staff had advised that under the comp plan and land use code, the Days were entitled to commercial development there.
"You go back to the Neighborhood Plan, you go back to our comprehensive plan, we always indicated a low-impact residential along Okeechobee," Browning said, explaining that he had been surprised that staff had recommended approval of an FAR (floor-area ratio) of .10 when the Days came forward with their first presentation.
"I did not understand how that fit at all, low-impact non-residential," Browning said. "I found out that because of not having the right advice when we put the comprehensive plan together, we did not put an FAR number on there. Therefore, we had a problem."
As a result of negotiation in closed sessions, the council, town staff and the property owners reached a compromise FAR of .074 for that property only, Browning said.
"It fits a certain criteria," Browning said. "It is at the corner of Okeechobee and Folsom, two county roads. This is not a plan approval. This is not the last look at this thing, but I felt it was a good compromise, because it took the project from a potential 44,000 square feet to 30,000 square feet."
Browning said the owners have agreed to the compromise, and they still have to go through the application process. "I know there's a lot of concern about impact to the intersection and the area," Browning said. "All of that will be dealt with."
Town Attorney Michael Cirullo said that the charter requires four votes to approve a zoning change at the adoption hearing, which will be Nov. 18.
Kerry Kilday, representing the Day family, said the original plan had come through at 59,200 square feet, with a 0.15 FAR, which had received approval by the Loxahatchee Groves Planning & Zoning Board in a 3-2 vote, but it advised that the use was too intense.
The developer came back with a 44,000-square-foot proposal, which split the council in a 2-2 vote, and litigation ensued. "In recent months, as mandated by the court, there was mediation that resulted in the cap of 30,000 square feet," Kilday said.
Kilday presented conceptual drawings showing preservation areas for pine trees and a retention pond along the front of the property as an esthetic feature.
"We're working under the mediation agreement, and it would take these two actions, and following that, it would resolve the lawsuit and Mr. Day could start designing the site plan," he said.
Councilman Ron Jarriel said he would want traffic calming on Folsom Road from Southern Blvd. to Okeechobee Blvd., explaining that speeders have already made the road dangerous.
"We all know that traffic is definitely going to increase on Folsom Road," Jarriel said. "I've had residents already talking to me that, at the minimum, they would like to see speed tables put in."
He added that the intersection at Okeechobee and Folsom is dangerous, and they have talked about a traffic light, but they had been told they couldn't put one there because of the proximity to a school.
Kilday said that would require a joint effort with the property owner, the town and the county, since they are both county roads.
Councilman Jim Rockett said that he understood that Tuesday's decision was step one, but there would still be many issues to resolve.
"I don't want you to go forward with the misperception that everything is fine," Rockett said, explaining that he expected the developers to find realistic options to making the intersection safer. "I want to see alternatives and answers that could work for us. Something needs to be done. If this comes forward without answering it, the answer will be no. That is the most dangerous intersection in town."
Planning & Zoning Board Chair Dennis Lipp said the ordinances received a unanimous recommendation for approval, but Board Member Grace Joyce had pointed out that adjoining properties could make claim to similar zoning if restrictions were not placed on the Day property.
"I don't want to see Folsom Farms turning into an adjunct," Lipp said. "The council needs to come up with language."
Cirullo said the Day property will have a restrictive covenant.
Councilman Ryan Liang made a motion to approve the comp plan ordinance, which carried 4-0 with Councilman Tom Goltzené absent. Rockett made a motion to approve the zoning ordinance, which also carried 4-0.