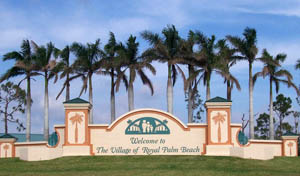 By Briana D'Andrea
A new commercial shopping center is another step closer to fruition after the Royal Palm Beach Village Council granted a long list of approvals for the Pioneer Road project last week.
The plaza will be located on the southeast corner of State Road 7 and Pioneer Road. It received the necessary zoning and site plan approvals at the Thursday, Nov. 20 meeting. The council also discussed a number of variances attached to the project.
Royal Palm Beach Planning & Zoning Administrator Bradford O'Brien said the applicant was seeking a variance request for the location of some of the parking spaces.
"Staff recommends approval of 21 percent of the required parking spaces to be located in the rear of the building, where village code only allows 10 percent," he said. "It's needed to provide adequate employee parking and accommodate service vehicles."
According to O'Brien, rules would be implemented that would limit pickup and drop-off times. The Royal Palm Beach Planning & Zoning Commission approved the variance 4-1 on Oct. 28.
But some of the project's neighbors were not happy with the variance.
Westwoods Property Owners' Association President Elyce Werner said she didn't understand why a variance was needed to add twice the rear parking than the code allows.
"This is double the amount, and for people to park in the back is very unsafe. I would like an explanation as to why you would double the amount when your code requires only 10 percent," she said.
"Your code requires one space per 200 square feet," explained planner Don Hearing of Cotleur & Hearing, representing the developer. "From a more common planning principle, this is to reduce the sea of parking you get in front of these centers. There are parking spaces even at the Toys 'R' Us next door that have never been used. This is an efficient use of the land, it makes sense and distributes parking where it needs to be."
Vice Mayor David Swift wanted to make sure that the area behind the building would be manned for lingering cars. "Would the applicant be required to make sure that we don't have parking that's not for the shopping center?" Swift asked.
"I'm positive that the property owner will police themselves and not allow parked cars to linger for a week at a time," O'Brien said.
"Pebb Enterprises would actually have full-time, 24-hour security," Hearing added.
"Have you all taken a close look associated with safety?" Councilman Jeff Hmara asked.
"Parking spaces and loading spaces interact quite often, and many times the loading spaces are utilized early morning. They don't want interaction with the patrons," O'Brien said.
The council approved the variance to allow additional rear parking 5-0.
Additionally, the applicant was seeking a landscape waiver to allow deviations at multiple sections of the property. "There are going to be six variations," O'Brien said.
According to O'Brien, these included eliminating berms and changes to landscape buffers, the ratio of numbers of trees, changes to perpendicular divider strips and canopy trees.
"Everything we've asked for is to achieve good design," Hearing said. "It's not a matter of saving money. We have 40 percent open space. We don't have another spot where we can stuff another tree."
That variance was also approved 5-0.
Another variance on the list was to allow for a 20-foot-wide landscape buffer in lieu of the required 25-foot buffer. Additionally, the developer wants to eliminate parallel divider strips in certain locations, which are usually required every 12 spaces.
Hearing called the variance a unique situation. "There's a 25-foot piece of land that separates the county right of way. We are only asking this to be reduced by 5 feet, but actually there's an existing 25 feet offsite," he said.
According to Hearing, that would actually make the buffer a total of 45 feet.
"I'm glad many of you made it out there to see it today," he said. "There's an existing berm there. The planting substantially exceeds the minimum amount. We're going in to create a buffer to a buffer. Is there an alternative answer? There is, but we think this makes the most sense."
Werner opposed that variance, as she did at last month's zoning commission meeting.
"I do oppose this," she said. "Yes, it's a unique situation; however, why should he deviate from meeting your requirements? The planning and zoning board did deny that 25-foot buffer. Mr. Hearing said that he would be willing to work with our community, and to date, there has been no communication made for any kind of discussion."
However, council members thought the buffer would be sufficiently large.
"I took a trip down there and took a look at it, and I was really stunned by how large the trees are in that 25-foot buffer," Swift said. "To tell the difference between 5 feet looking through that buffer versus 20 feet I think is impossible, but there are some gaps. I was wondering if the developer would take some vegetation and fill in those gaps?"
"We would be happy to," Hearing said.
The motion to allow for the 20-foot-wide buffer and the removal of some parallel divider strips carried 5-0.
Lastly, the applicant was seeking site plan, special exemption use and architectural approval for the 10.6-acre parcel.
The site plan calls for an 85,177-square-foot commercial development to include three buildings, two of which are free-standing, 6,660-foot retail buildings, and a 71,977-square-foot inline building.
"The applicant is requesting to relocate the existing cell phone tower to the southeast portion of the commercial tract," O'Brien said. "The access to the site would be on the northwest corner, centrally located access off of State Road 7, and two access points to the south of the property."
According to O'Brien, the proposed project meets all necessary requirements, and he recommended approval of the project.
"We brought out these two outparcel buildings all the way to the street, to engage the street. It will actually hide the parking," Hearing said. "The style of the buildings are a blend of Isla Verde, all the way up to the newer buildings, to the Toys 'R' Us and the Royal Office Park. That was a request from staff. It's a bit contemporary, a bit fresher."
Hearing said that he expects it to be a very successful project.
"We're really excited about this property," he said. "We're ready to go forward. I believe we are about 90 percent leased. A lot of good tenants are waiting to come here."
Werner said she had a letter from the county that would prevent any trucks from using the Westwoods entrance at Pioneer Road.
"I would like a provision put in before you approve, to not have any commercial vehicles or heavy equipment vehicles to be able to enter that entrance only," she said. "You have 725 homes. We are going to have traffic problems there. You will be having accidents."
Hearing said that the developers will accommodate that request.
"She is correct, I did misstate that we might have commercial vehicles coming in that entrance," he said. "We are more than happy to live with that. The applicant worked with Westwoods, which owns that strip, and they would not let us penetrate it. So, we are in agreement with the recommendation and the condition that was discussed."
The project was approved 5-0.