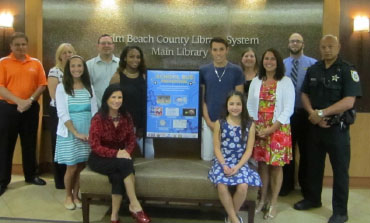 With a $500 scholarship and more than $1,500 in prizes overall, the Wellington Rotary Club has announced its support of the fifth annual Underage Drinking Prevention School Bus Poster Contest, which will culminate with an awards ceremony on Wednesday, Feb. 11, 2015.
The deadline for submission of entries is Friday, Dec. 5.
"This year's theme is 'Stand Tall Above Alcohol,' and we are looking for kids in grades K-12 to do just that by creating a poster that shows them taking a positive stand for an alcohol-free lifestyle," said Rotarian Tom Carreras, lead volunteer on the project.
The contest is a collaborative effort between the Wellington Rotary Club, the Palm Beach County Substance Awareness Coalition, Adobe, the Hanley Center, the Palm Beach County Sheriff's Office, the South Florida Fair, the School District of Palm Beach County and Allstate, to increase awareness throughout the community about the dangers of underage drinking, while promoting the little-known fact that most teens are alcohol free. "Seven out of 10 students are alcohol free," noted Jeff Kadel, executive director of the Palm Beach County Substance Awareness Coalition.
However, Palm Beach County is four percent higher than the national average in the number of teens that drink on a monthly basis. The poster contest allows the community to make positive strides against this statistic.
The top entries will be displayed during the South Florida Fair. More than 100 volunteers will place the winning artwork on the Palm Beach County School District buses for 60,000 students to view daily. Throughout the summer, last year's winning artwork was on view in each of the 16 Palm Beach County Library System branches.
Prizes include the following:
• A $500 scholarship.
• Adobe will award the top two high school students with the Adobe Photoshop Creative Suite, and the top two middle school and top two elementary school students each will receive a copy of Adobe Photoshop Premier Elements.
• The top six winners — two elementary school, two middle school and two high school students — each will receive a $50 gift card, and each of their posters will be displayed on all of the school district's school buses.
Rules and an entry form can be found at www.pbcbusposter.org.
The deadline to submit all entries is Friday, Dec. 5 at 11:59 p.m. For more information about the contest, or to learn about volunteering for the project, contact Alexa Lee at (561) 844-5952 or alexalee@pbcsac.org.
ABOVE: Shown here is Joshua Hartigan, the designer of the 2014 library poster, where all winners were showcased, along with sponsors and participants in last year's contest.