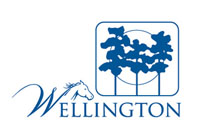 Because of the generosity of local residents and businesses, approximately 300 children will have a brighter holiday season.
Wellington's InterFaith group, partnering with Wellington's Community Services Department, is hosting this year's toy drive at St. Peter's United Methodist Church.
On Dec. 22, pre-registered parents will be invited to pick toys for their children at St. Peter's, which is changing things in its third year hosting the toy drive. While parents are picking toys out for their children, and volunteers are wrapping and labeling the toys, there will be a place for the children to play.
"We're trying to infuse the community with positivity. Folks who have a lot can give some to folks who have a lot, lot less," said Emily Denmark McGee, associate pastor at St. Peter's.
The community is working together to make this event possible, with groups such as InterFaith, the Mall at Wellington Green, Jet Hauling, Tara Management, Ultima Fitness, the Wellington Chamber of Commerce, Binks Forest Elementary School and the Wellington Preservation Coalition working toward a common goal: collecting toys to make the holiday season brighter for young Wellington residents.
Something as simple as a toy is all it takes to bring a smile to the face of a child in need.
"I've seen these type of toy drives in the past," Wellington Community Services Director James Poag said. "I think the best thing for me, when you have the opportunity to do something like this, it's just to see the eyes of the child light up when they get to select a toy."
There is still a great need for toys, as gifts are needed for all ages, from babies to teenagers. Though gifts for small children are often easier to come by, there is a need for age-appropriate gifts for teens and pre-teens. Some suggestions include gift cards and sporting goods like basketballs — especially items that older kids can use alone, without being dependent on having others to play with.
Toys for the toy drive are being collected from now until Thursday, Dec. 18. However, there will be one final visit to all of the drop-off locations Friday, Dec. 19, in case any last-minute toys come in.
Toys can be dropped off at the Wellington Community Center, the Wellington Community Services Office, the Wellington Municipal Complex, the Wellington Recreation Center, Ultima Fitness, the Lake Wellington Professional Centre, all Wellington fire stations, Walgreens at the Wellington Marketplace, as well as St. Peter's and various InterFaith locations.
Meridith Tuckwood, community services specialist with the village, sees the toy drive as a two-way street.
"It's just a blessing on both sides," she said. "It's a blessing for those who are able to contribute, and it's a blessing for those who are able to receive."
Tuckwood, who has worked with many of the previous toy drives, is overwhelmed with the generosity and hope that comes from these events. "The community really rallies to provide for those who are struggling for any given reason," she said.
The Village of Wellington, Poag said, works to combat this need.
"During the holiday season, it's a time for us to have an opportunity to share with others who may be less fortunate. Throughout the year, many of us have so many blessings that we so often take it for granted," he said. "It's always good to give back to the community and be invested in the community. Wellington is committed to its residents and committed to trying to relieve some of their needs, especially during the holiday season."
Sponsorship opportunities are still available to help those in need. "We are extremely grateful for the continued generosity of our Wellington residents and businesses, but we do still need their help," Tuckwood said. "We're very fortunate to live in such a wonderful community."
For sponsorship information, contact Tuckwood at (561) 793-2476.
Families in need of assistance can ask to be placed on the list for gifts. For more information, call the Wellington Community Services Office at (561) 791-4796.