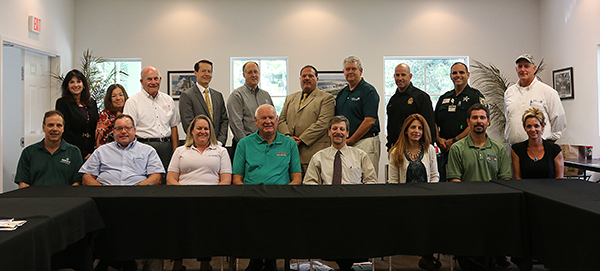 The countdown has begun for the 31st annual Wellington Holiday Parade, which begins at 2:30 p.m. on Sunday, Dec. 14 at the corner of Forest Hill Blvd. and Wellington Trace. The parade then heads south on Forest Hill Blvd. to the Wellington Amphitheater at Country Club Drive.
As parade day nears, details are still being finalized, but co-chair Mary Lou Bedford shared some of the details with the Town-Crier this week.
The featured celebrity VIP, serving as grand marshal for 2014, is Chris Leavitt, a Palm Beach resident who stars on Bravo's Million Dollar Listing-Miami TV show.
"We're very excited to have Chris Leavitt as our grand marshal," Bedford said. "Every year we try to get someone who has excelled in an area. He has been a great entrepreneur, so he will be a great representative for our chamber."
Leavitt will be joined by a number of political leaders, such as U.S. Rep. Ted Deutch, State Rep. Mark Pafford, County Commissioner Melissa McKinlay and more, Bedford said, being sure to note that Santa and Mrs. Claus will once again bring up the grand finale of the parade.
Prior to the parade, which had 111 entries in 2013, will be the family-friendly Holiday Park at the Wellington Amphitheater from noon to 2:30 p.m. There will be face painting, a balloon maker, arts and crafts, vendors, music and more, where children and families can gather before watching the parade.
Bedford recommends arriving early to pick a good spot, bringing sunscreen, snacks and water. "It's just a fun time if you've never been," she said. "It's a great outing with family and friends."
To orchestrate a parade on the scale of the Wellington Holiday Parade — with 10 fire trucks, 25 horses, 80 volunteers, 500 musical instruments and approximately 25,000 spectators — having a team that works well together is crucial to its success.
"It literally takes a village. It takes a business community to put this event on, and that's what makes it so special. A lot of people support it and participate in it. It's really unique," Bedford said. "It's really amazing how the Village of Wellington just steps up and does so many wonderful things, and the PBSO is so instrumental, and Palm Beach County Fire-Rescue. Everyone participates and gets involved. It's exciting to watch us all work collaboratively together."
It all started 31 years ago under the leadership of Dennis Witkowski, who remains parade chairman to this day.
"He has done an amazing job of showing leadership and making everyone just rise to the occasion," Bedford said. "I'm so grateful he comes back each year and leads us all forward. He does a great job as the chairman of the committee."
This is Bedford's fourth year on the committee, and she is thrilled to return and to see others continually return. "This is the most phenomenal committee I've ever worked with, and they all just keep coming back each year," she said.
Each parade is different, she explained, and that starts with the theme. The theme sets the tone, and this year's theme, Peace on Earth, is one of hope.
"There has been so much turmoil this year, in the news, not just around the country but around the world, and we thought this was a time to reflect," Bedford said, explaining the Peace on Earth theme.
It has proven to be a creativity-inspiring theme, Bedford said, hinting that there will be plenty of surprises and excitement, as well as spectacular floats and great visuals for the kids.
With different businesses involved in the parade each year and different themes, the floats always provide a visual variety. The flavor tends to change, because of the costumes, float styles and theme, Bedford explained. "You'll see some of the old familiar faces, with a twist," she said.
Making it all happen is a hardworking committee of community volunteers, which includes Witkowski, Bedford, Ben Boynton, Scott Armand, Bruce Beck, Sal Ronga, Denise Marie Testai, Lt. Eli Shaivitz, Michael Kletzky, Deputy Scott Poritz, David Leland, Kimberly Leland, Bruce Delaney, Dennis Flaherty, Joe Piconcelli, Andrew Burr, Jim Lewis, Joel E. Dowley, Marc Kleiman, Mark Bozicevic, Paul Jaremko and Betty Buglio.
One of Bedford's favorite things about the parade is watching the spectators and performers. "What excites me is just seeing the faces of all the spectators and how excited they are," she said. "I'm just excited every year when we do this."
The event means more than an introduction to the holidays for Bedford, who focuses on the collaborative efforts that go on to bring the parade to fruition.
"You get that sense of community and everyone working together and making it special," she said. "It does represent so much of the community. You have about seven cities represented in the parade, the marching bands from all the local high schools, all sorts of dance troupes and floats from churches and civic groups and hospitals. It's really exciting."
As one of the largest parades in Palm Beach County, the 1.3-mile, 2,500-participant event would not be possible without its sponsors.
"Our sponsors, the Schumacher Family Dealerships and the Wellington Preservation Coalition, have been instrumental in making it happen every year," Bedford said. "Sponsorships have really made this parade go each year."
Aside from the two presenting sponsors, the 2014 sponsor list includes Holiday Park presenting sponsor Waste Management and community partners AGTS Insurance Company, the City of Greenacres, Costco, Everglades Farm Equipment, Hill Audio Visual, J.J. Muggs Stadium Grill, J&J Produce, Mid Florida Golf Carts, Palm Beach County Fire-Rescue, the Palm Beach County Sheriff's Office, Primerica Financial Services, Print-it Plus, Professional Concessions Inc., Republic Services, the South Florida Fairgrounds, Southern Waste Systems, Starbucks, TD Bank, the Center for Bone & Joint, the Mall at Wellington Green, TKM-Bengard Farms, Two Men and a Truck, Valid Financial Advisors and Whole Foods Market. Media partners include: Around Wellington, Palms West Monthly, the Sun-Sentinel, the Forum Group, the Palm Beach Post, the Town-Crier and Wellington The Magazine.
Every year, the parade seems to draw more spectators, Bedford said.
"More people talk about it. I think it's something that we all look forward to," she said. "We take a lot of pride in making sure we are doing everything to continually make it a fun and safe environment for everyone."
For safety, Forest Hill Blvd. will close down around 2 p.m. and will open back up between 4:30 and 5 p.m., once the parade has concluded. For more information, visit www.cpbchamber.com or call (561) 790-6200.
ABOVE: The Parade Committee is made up of many dedicated community volunteers.