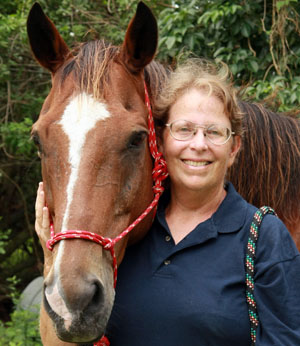 TALES FROM THE TRAILS
As far as I'm concerned, Thanksgiving is all about spending time with family and friends, relaxing around the table, catching up on the year and, of course, eating way too much. I get more than a little cranky at how the corporate world is trying to whittle down this family-oriented holiday. Spend more, they insist. And spend sooner. After all, Christmas is right around the corner, and you have to buy things right now!
But there's time for that. Christmas (and Hanukkah and Kwanzaa) will all arrive, and I resent the encroachment on the time that should be spent with people we love. So, I never go rushing off at earlier and earlier hours, starting now on Thanksgiving itself. I shake my head in bewilderment at the people who set up tents outside stores. They're missing the more important point. It's not about acquiring things; it's about spending quality time with people.
With that rant off my chest, I will say that each year I visit only tack shops on Black Friday. I usually have one or two items in mind I could use, and I always like to see what's available and what's on sale, without going too crazy. This year, there were two stores to visit: the Tackeria, of course (I had my postcard in hand), and the new Dover Saddlery, which had just opened the previous week.
The Tackeria was bursting at the seams, as usual, with vendors and special sales out on the sidewalk, enjoying the glorious cool weather. Browsers crowded the aisles, trying on boots, jackets and shirts, collecting brushes and Breyer models, sitting in saddles and contemplating bridles. "It has been good and busy," said sales associate Pam Shelp.
Pam used to be my neighbor. We raised a couple of PMU colts together. That's the other thing about moseying through the Tackeria: It's the neighborhood gathering place where you connect with friends. "We've got lots of great deals. Breeches are moving well, along with whips and barn stuff — buckets, stall chains and halters," Pam continued.
She rushed off to help someone else, and I waved to Lou Cuthbertson, the store manager. "We were swamped early on," Lou said. "We're holding a lot of free drawings this year, giving away more than $9,000 in free raffle items. There's an M. Toulose saddle, riding coats, some high-end saddle pads, a ton of stuff."
In fact, not a minute later, I heard my name called as owner Tony Coppola pulled my postcard out of the box. I won a cute horse-fabric covered pillow.
"Everything in the store is on sale," Lou continued. "Most of the saddles are marked down, plus you get a free bridle when you buy a saddle. Helmets are 20 percent off, and whips, crops, spurs and spur straps are 25 percent off. We've got a good deal on Sergio Grasso boots and San Remo boots."
I almost wished I needed a new pair of boots, but the only thing on my list was a bottle of Lexol. However, a very cute bridle called to me as I walked past. At just $49, there was no way I was leaving that.
Customers were lined up at the registers. Paige, born and raised in Wellington, had a nice collection going when she suddenly remembered she also needed three more feed buckets and took off down the aisle to retrieve them. "It's the first time I've been here in a while," she said. "I got halters, reins, farm stuff and clipper blades. I love that it's all on sale, and there's lots to choose from."
Janice had come all the way from Naples. "We come for the sale each year," she said, perusing the shirts. "We have three horses. I'm getting gifts, lead lines and clothing. There's nothing like the Tackeria back home. We love the prices and selection. This is a great store and a great town. I wish I lived here."
Lorraine from Loxahatchee had come with her two granddaughters, Mia, 11, and Makayla, 4. "I'm getting them paddock boots and breeches," she said. "We always find what we're after each year. It's an awesome sale."
Louise and her daughter, Jessica, both from Wellington, had come to explore. "It's our first time ever at this sale," Louise said. "We usually stay at home and make fun of all those people who rush off for the sales, but now I understand why people do this. It's great. We're looking for saddle pads and a seat cover."
Dover Saddlery, located at 11120 S. Crown Way, had a different feel. Products were spaced out more, and the aisles were moderately busy.
"Things have been going great," said product advisor Holly. "We've got terrific sales on riding boots, saddle pads, gloves and apparel. Our bestselling items so far have been riding boots and helmets. Sometimes it's a little quieter, like now, and sometimes it's really busy. Customers seem to come in spurts."
Emily and her daughters had come from Aspen, Colo., to visit family and stopped in to shop.
"We love our local Dover store back in Colorado," she said. "We're loyal customers. We like coming to the stores and being able to handle and try on items. When you order online, sometimes you end up returning things because they don't exactly fit. We like visiting and seeing the new, exciting items. They've got a good selection and good prices."
Amanda, down from Sebastian to visit friends, also stopped in. She doesn't have a horse — yet.
"I'd like a show coat, breeches, polo wraps and a saddle pad. It's my first time in this store. It's very nice," she said. "I'm just looking and dreaming."