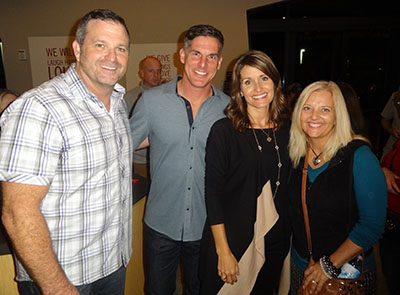 Wellington's LifeChurch.tv campus was all abuzz when local Campus Pastor Larry Mayer announced that Senior Pastor Craig Groeschel, founder of LifeChurch.tv, was going to make an appearance at the Wellington location on Thursday, Dec. 4.
This "Vision Night" was a chance for Groeschel to connect with the more than 2,500 Wellington members one on one. He delivered an encouraging message to a standing-room-only crowd, reminding them that they do not belong to a church, but that they are the church.
The night began with a Christian band bringing everyone to their feet in worship. Mayer received a standing ovation, and the members roared when Groeschel acknowledged him for doing an excellent job with the Wellington campus, naming Wellington the fasting-growing campus of the 20-plus LifeChurch.tv campuses throughout the nation.
Groeschel went on to share some future goals with the members, including additional campus locations for which ground has been broken, and the possibility of acquiring additional land in South Florida for another campus. "It was through the generosity of our members that we have been able to successfully purchase land and construct 20 campuses completely paying cash for each location," he noted.
Groeschel made his way to the stage together with his wife, Amy. They thanked the many volunteers, campus pastors, leaders and administrators for the countless hours they give to the church. "Our mission is to lead people to become fully devoted followers of Christ," he said. "That's how we're able to make a difference, and it's the driving force behind everything we do."
Groeschel became a little choked up when he began to reminisce about his early years in the church and how he would never forget watching as another pastor shamed a woman who arrived at church in less than her Sunday best. "From that moment on, I never ever wanted anyone to ever feel that shame, and I make it a point and let it be known LifeChurch.tv accepts everyone exactly as they are," he said.
The evening wrapped up with Groeschel leading the crowd in a prayer. Both he and his wife made a point to stand out in the lobby as hundreds of members formed a line, and did not leave until speaking, often praying, with each member wishing to meet them.
For more information about LifeChurch.tv, visit www.lifechurch.tv or stop by any service at 9:30 a.m., 11 a.m., 12:30 p.m. or 5:30 p.m. each Sunday. Everyone is welcome, and childcare is provided for newborns through fifth grade. LifeChurch.tv is located at 3061 S. State Road 7 in Wellington.
ABOVE: (L-R) Campus Pastor Larry Mayer, Founder & Senior Pastor Craig Groeschel, Amy Groeschel and Deanna Mayer.