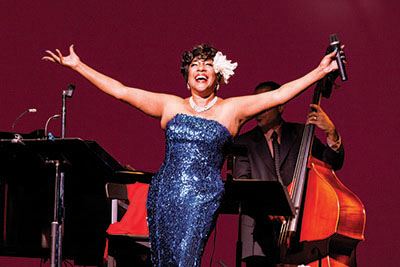 Coming to the Dolly Hand Cultural Arts Center on Tuesday, Jan. 6 is James Gavin's Stormy Weather: The Music of Lena Horne. The show stars Mary Wilson of the Supremes singing the songs that made Lena Horne famous.
Stormy Weather is a multi-media concert featuring a narrator (James Gavin, author of the book, Stormy Weather), Mary Wilson, a trio of jazz musicians, and rare audio and video footage from Lena Horne's life.
The show is a "living, breathing, biography," combining story, song and visual images to give a defining portrait of an American icon. Thrilling arrangements include "Stormy Weather," "Honeysuckle Rose," "Yesterday When I Was Young" and many others.
The Dolly Hand Cultural Arts Center is located on Palm Beach State College's Belle Glade Campus at 1977 College Drive in Belle Glade.
For more information, call the box office at (561) 993-1160 or visit www.dollyhand.org.
ABOVE: Mary Wilson as Lena Horne in Stormy Weather.