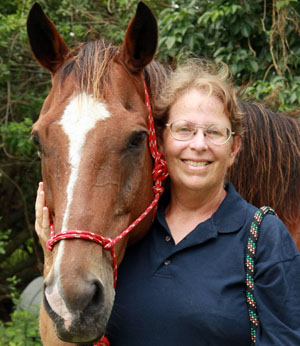 TALES FROM THE TRAILS
Nadine Galbraith knew she wanted to be a veterinarian the first time her family brought their dog to a clinic. She was in the fifth grade. A doctor for animals? It was a profession that combined all of her passions.
Nadine grew up in Los Angeles but always wanted to live someplace where they could have horses. She was thrilled when her family moved to a 40-acre farm in Arkansas when she was 11. First came a pony, then a big horse, which she outgrew, and finally a green-broke 3-year-old. On summer days, she'd ride from dawn until dusk along trails, helping neighbors move cattle, scrambling up and then sliding down the steep sides of a nearby shale pit.
"I learned so much from that gelding," Nadine recalled. "He was a plain red Quarter Horse named Ole Joe Possum. We made a neat team and went through a lot of trials and tribulations. I brought him to college with me at William Woods University. That's where I got into reining, the coolest sport ever."
Eventually, Nadine attended veterinary school at the University of Florida in Gainesville. During one summer break, she was working in South Florida when she met and married Edward. They moved to Caloosa in 2001.
By then, Nadine had a thriving practice, a few children and some horses she showed in reining. But, being a competitive rider, she wanted to move up. At the end of 2004, she was attending the Quarter Horse Congress, shopping for a new horse.
"A friend told me to go look at a horse and bring my checkbook," she said. "I got there just before a trainer and never hesitated."
Smart Snap, now 16, is a gorgeous bay Quarter Horse who stands 15 hands.
"I thought he was exactly what I wanted and that we'd be able to go into any show ring and win it all," Nadine laughed. "I found out he had a few skeletons in his closet. He took me for a ride a few times, but we worked through that. He's a special, exceptional horse. I can do anything on him without even moving my hands. We have such a connection. He likes that partnership."
By mid-2005, they were winning everything: trophies, belt buckles, saddles.
"In 2006, my confidence was high. We showed in the Intermediate Non-Pro Division, and all of a sudden, we were leading it," Nadine recalled. "I noticed that some European shows had huge added money, so that summer, we flew to Amsterdam, drove to southern France where we stayed with some friends for a bit, then showed in Italy, Germany and France. We won enough to pay for the whole trip."
Snap had a great year on both sides of the Atlantic.
"We showed all over the U.S., ending up at the congress as champion in both the Intermediate Non-Pro and Non-Pro Divisions, despite the fact that I was injured for the last show," Nadine said. "I'd been tossed hard from a 3-year-old an hour before the class. I was in excruciating pain and could barely use my left side. It was a huge class. We placed in the top four. Snap always won, unless I messed up. He's that great a horse."
In 2007, Nadine and her two daughters traveled to a big reining show in Kentucky. Her middle daughter, Carly, showed her mare, Sweet Starbuck, in 13 and under, winning the division, while her oldest daughter, Melanie, won the 14-18 division with Smart Snap.
"It was cool, having both of my daughters win championships," Nadine said. "It was an unbelievable day."
In 2008, Melanie continued showing Smart Snap in 14-18. Her world championship helped her earn an NCAA scholarship to the University of Georgia in Athens. That was Smart Snap's third world championship. That year, Carly also showed him at congress and won. It was his third congress win.
Last year, her youngest daughter, Aubrey, showed Smart Snap in 13 and under, winning the NRHA World Champion title yet again at congress, for the fourth time. In 2014, Carly showed him in Limited Non-Pro, and in 14-18, qualifying for the Oklahoma City NRHA Futurity Show and North American Championship. Nadine has nominated him for the NRHA Hall of Fame.
As for Smart Snap's future, reining is a challenging sport, and he's going to be 17. Nadine doesn't want to stress his joints. She plans to do occasional Quarter Horse shows, ranch, pleasure and trail classes, as well as western dressage.
"Reining is like dressage," Galbraith said. "It requires the same precision, just done at speed and without any contact on the bit. I think we'd both like dressage. I'm on the hunt for another, younger horse, but the thing is, where do I go from here when I've had a horse like him? He was the find of a lifetime."