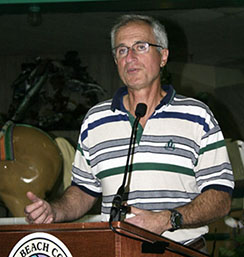 Palm Beach County Administrator Bob Weisman, who will be retiring in August after 35 years in county government, is ready for the changes the new year will bring, as well as tackling some of the challenges that seem to be perpetual.
"There are some issues which never go away," he said. "One is the budget and taxes. There are more and more services that are wanted by people and facilities, and there's definitely a desire not to raise taxes, so it's hard to find dollars to provide those services. That challenge will continue."
As the county has seen various battles over growth this year, including decisions affecting residents near the planned Minto West development, that topic remains a challenge for the county.
"You have the development challenge, with projects like Minto. People own property, and they want to develop those properties in the future, and there's not enough traffic capacity," Weisman said. "We'll be dealing with that in the coming year as projects come forward to be considered, and that certainly has a big effect on the western communities."
Improvements in more rural parts of the county, such as the Glades, are a continuous effort, and one that newly elected County Commissioner Melissa McKinlay made a focal point in her campaign.
"We have the ongoing issues in the Glades, including the economic development out there," Weisman said. "We need to assure that the [Herbert Hoover Dike] is repaired by the U.S. Army Corps of Engineers and the federal government so they know that there's stability out there. We need to have leadership out there to help make sure we try to do the best we can."
McKinlay's outlook and new approach have been helpful, he said, especially with the Glades. "We're working with the new commissioner to get good results out there," Weisman said.
Though McKinlay is new to the commission, she has hit the ground running, he said.
"Commissioner McKinlay is new, but she's had a lot of involvement with government," he said. "She is much more familiar with how we function than the typical commissioner who gets elected for the first time."
One topic that has created a stir in the county is the future of spring training baseball. Weisman is ready to take action, with the direction to be determined shortly.
"We have special projects like baseball, which right now is the hottest thing, seemingly, in the county," he said. "Are we going to build a new stadium and put four teams here, or is that going to go away? I think we'll know that in about 90 days or so."
Weisman wants closure on the baseball issue before he leaves. "I'd like to finish baseball and get that set up so whoever comes in as a new person doesn't have to deal with that issue," he said. "Either we should have it done or it will be on its way to completion, one or the other."
Clean water is always an issue, he said, affecting many different facets of county government. "Is there enough water for farmers, for development, for the environment? I don't expect anything radical to happen in regard to that," he predicted.
Weisman, who described the majority of his role as county administrator as routine, has a great deal to accomplish in 2015 before hanging up his hat.
"I need to help prepare my replacement, whoever that is, to take over the job. I believe the replacement will be selected before I leave, so it's my number-one goal to prepare that person as well as I can," he said, noting that it feels strange to be wrapping things up.
"It will still be my responsibility to prepare the budget for 2016," he added. "I won't be here for the final approval of it, but it will be my job to prepare it for the board to consider in September."
Joining the county staff in 1980, Weisman became county administrator in 1991. After 23 years, he has had a great deal of experience tackling anything that comes his way.
"Even when new things come up, I tackle issues very aggressively," he said. "Because of my experience, I generally know how to deal with issues, and I try to get the board to where it wants to go as well as possible for the good of the public and their good as well."
In a few months, though, Weisman will be leaving his job, which will be bittersweet.
"I don't know what to think," he said. "A lot of the things I'm doing now are the last things I'm going to be doing. It will be the last budget. It will be my last trip to Tallahassee for the legislation. It has been different thinking about things that way. I've been doing this job for 23 years. I do it today as I did it years ago. I'm fully engaged, and I'm still thinking of leaving the county in the best position possible for when I leave."
ABOVE: County Administrator Bob Weisman will retire in 2015.