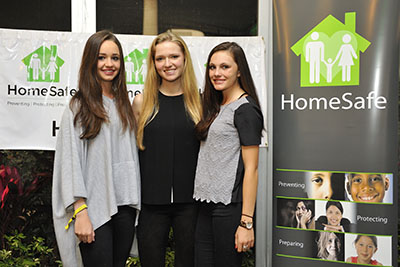 On Jan. 10, HomeSafe hosted its fifth annual Jump for HomeSafe at the Palm Beach International Equestrian Center in Wellington. More than 80 guests enjoyed ringside seating for the exciting, world-class equestrian "Battle of the Sexes" competition, while enjoying dinner, an open bar and a silent auction.
Co-chairs for the event were Hannah Patten, Lillie Keenan and Samantha Wight. All three are young competitive riders on the circuit. During the competition's intermission, the co-chairs spoke about their visit to the agency and the importance of the services HomeSafe provides victims of child abuse and domestic violence.
"We thank our co-chairs and sponsors who made our fifth annual Jump for HomeSafe another great success," said Matthew Ladika, chief executive officer of HomeSafe. "We look forward to coming out here each year, and are so appreciative of the continued support of the equestrian community."
Since 1979, the nationally accredited nonprofit organization HomeSafe has protected Palm Beach County and South Florida's most vulnerable residents — victims of child abuse and domestic violence. Through its results-driven approach, HomeSafe has grown into a leading provider of prevention and intervention services, serving more than 16,000 infants, children and families each year. For more information, visit www.helphomesafe.org or call (561) 383-9800.
ABOVE: (L to R) Samantha Wight, Lillie Keenan and Hannah Patten. Photo by Tracey Benson Photography