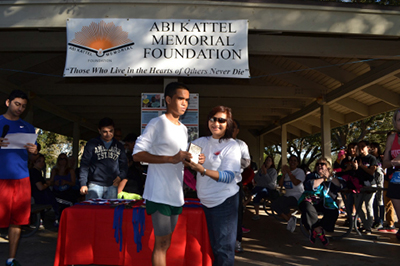 Runners came out on a cool and sunny Saturday morning for the seventh annual Abi Kattel Memorial Foundation Run for Education held Jan. 17. The run held true to prior years, with cool temperatures and sunny skies awaiting the runners.
The foundation, which provides scholarships to college students and children seeking to attend YMCA summer camps, was founded by the family of the late Abi Kattel. Bijaya and Archana Kattel, Abi's parents, along with numerous volunteers, make sure that everything goes off without a hitch.
Volunteers from the Kohl's store in Royal Palm Beach were a tremendous help in assisting with checking in runners and handing out water along the course. Volunteers from the Boynton Beach YMCA also helped with handing out water and directing runners to ensure that they stayed on course.
Swochchhanda Shrestha, a 16-year-old athlete, was also recognized for his work in winning an essay competition. He decided to donate his entire winnings from the competition to the foundation.
"We hope to grow the run into something that people really make a plan to join," said Ajay Kattel, Abi's younger brother. "We have great turnout, and many returning runners, and that's really a great thing, to see people coming out for the second, third or even sixth time. We love seeing new faces, as well."
This year's race, like all previous runs, involved both runners and walkers. Taking home the overall race win was Swochchhanda Shrestha, who finished in 18 minutes, 54 seconds. Tam Sissenwein was the first female to cross the line in 22 minutes, 9 seconds.
The 5K is held at Okeeheelee Park, winding around the lake and providing the runners and walkers with a beautiful view. Proceeds go directly to the scholarships and events of the foundation, which also includes a "feed the homeless" day and blood drives every holiday season to help those in need.
The Abi Kattel Memorial Foundation is a charitable nonprofit organization based in Wellington. Founded in 2006, the purpose of the foundation is to draw light to and encourage a student's pursuit, regardless of financial ability.
"We want to help give children every opportunity to succeed," Archana Kattel said.
For full race results, more information about the foundation, or to make a donation, visit www.abikattelfoundation.org.
ABOVE: Swochchhanda Shrestha came in first place overall.