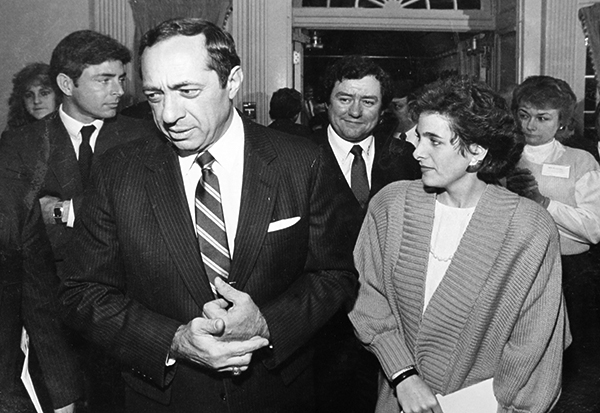 Long-time Loxahatchee resident Leslie Mann paused this month to remember one of her great political mentors, former New York Gov. Mario Cuomo, who passed away earlier this month.
Mann spent several years working for Cuomo, crossing over from the 1980s to the 1990s. It was a once-in-a-lifetime experience that she will never forget.
Cuomo, a Democrat who served as governor from 1983 to 1994, died Jan. 1 at age 82. He is survived by his wife, Matilda, and five children, including current New York Gov. Andrew Cuomo.
Cuomo also left behind many fond memories for Mann, who worked with him for about eight years.
Mann began her professional political career working for the late Dennis Koehler when he was a Palm Beach County commissioner. She was deputy campaign manager for Koehler's campaign for Congress, before moving to Washington, D.C.
Before the 1984 Democratic National Convention, Mann worked at the Democratic National Committee for Nancy Pelosi, who was in charge of the Compliance Review Commission and the chairman's office. In that job, she had a prime vantage point for a key moment in history.
"At the convention, in San Francisco, on the podium, before Mario Cuomo gave the keynote address, which is one of the most famous keynote addresses of all, I was standing right behind him and his son," Mann recalled.
She was taken by the stillness of the room before he started speaking.
"You could have heard a pin drop. I just remember being close to him, watching him. I can't remember anything he said, but I fell in love with this person. I felt passion for what he was passionate about, and it was at that moment that I knew I had to work for him," Mann said.
Mann would later work in Albany, New York's state capital, as one of Cuomo's regional representatives. "When the governor would go to events, there was a swarm," she said. "There was always a swarm of people around."
At one point, there was a great deal of speculation as to whether Cuomo would run for president.
One Sunday morning talk show had speculated that because Cuomo hired Mann, he was gearing up for fundraising to run for president, she recalled. "In essence, because I was hired to be his regional rep, what they picked up on was that I was going to be fundraising to get his presidential campaign in gear," she said, stressing that any such speculation was not based in reality.
To this day, Mann remains impressed with Cuomo's abilities.
"He was the most intelligent, moral, political, kind, gentle person that I've ever met," she said. "He didn't miss a beat on anything. It was my hope, it was my thought, that when he left the governor's seat, he would become a Supreme Court justice, because he loved the law."
Working for Cuomo, she said, was an amazing experience. "I felt that I won the employment lottery," she said.
When Mann received a text informing her of Cuomo's passing, she was speechless and had to stop to collect herself.
"It was very heart-wrenching to me," she said. "I wasn't expecting it. I still have connections with certain people. It just came out of the blue."
Ultimately, rather than attend the funeral in New York, Mann decided to mourn the loss of Cuomo in her own way.
"The best way I can mourn him is to honor him," she said, "as one of the most formidable, intelligent politicians that I think we've seen in a long time and that we'll ever see."
After leaving office, Cuomo did many speaking engagements, and now, his son is the governor and another son, Chris, is on TV.
"His boys are out there, and for me, they give me the peace of mind that I need to feel that he's still a part of my life," Mann said. "This man was genuine. He raised a very good family. He was a good father in addition to being a great governor."
Her memories still remain strong of the man who held faith and family close to his heart. "When he talked to you, you were the only one he was talking to," Mann said. "When you talked to him, he was looking right at you."
People would give Cuomo letters, notes and gifts everywhere he went, Mann said. Though it might have been considered something small, Cuomo would make sure that everything was acknowledged, often overseeing the responses to letters.
One of Mann's many stories about her time working with Cuomo goes back to baseball, something Cuomo was extremely fond of and once considered a career in.
"He was watching television one night, and on the news it showed that the AA baseball team 80 miles north of us was probably going to shut down because they didn't have the money to operate it," she said. "Within 10 minutes of the news, I got a phone call saying the governor wants to talk to me. He got me on the phone and said, 'What's going on up there? Baseball! Baseball is American. We have to save this place. Find out for me what we need to do.'"
ABOVE: Area resident Leslie Mann (right) during her time working with former New York Gov. Mario Cuomo (left). Cuomo died Jan. 1 at age 82.