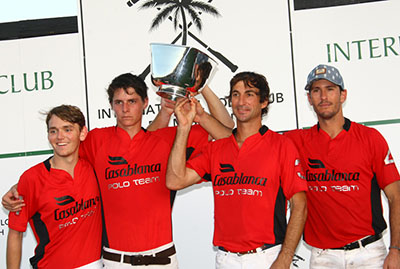 By Alex Webbe
A shift in strategies and a second half rally carried Casablanca (Grant Ganzi, Juancito Bollini, Miguel Novillo Astrada and Nic Roldan) to a 13-11 win over an impressive Villa Del Lago lineup (Jim Zenni, Agustin Obregon, Polito Pieres and Julian de Lusarreta) on Sunday, Jan. 4 in the final of the season opening 20-goal Herbie Pennell Cup at the International Polo Club Palm Beach.
Casablanca made their way to the final by defeating Coca-Cola (Gillian Johnston, Kris Kampsen, Julio Arellano and Mason Wroe) on Friday in semifinal action 14-6. Villa Del Lago had a more difficult time of it as they edged Lechuza Caracas (Victor Vargas, Marcos Alberdi, Juan Martin Nero and Martin Espain) 10-8.
Villa Del Lago struck early, with 9-goaler Pieres taking the opening throw-in 150 yards down the field for the first goal of the game. It was nearly five minutes before another goal was scored when Roldan tied it with a shot from the field. Roldan's second goal came less than a minute later, putting Casablanca on top 2-1. Consecutive goals from Pieres ended the first chukker with Villa Del Lago leading 3-2.
A second period infraction by Villa Del Lago sent Astrada to the foul line, where he scored on a 40-yard penalty shot to tie the game at 3-3. A pair of goals from Obregon and another goal from Pieres ended the chukker with Villa Del Lago in command 6-3.
Pieres made it 7-3 in the opening minute of the third chukker as he carried the ball down the field with Casablanca's Astrada on his hip. Bollini passed the ball to Astrada and then rode a man out of the play to allow his teammate to score, cutting the Villa Del Lago lead back to three goals, 7-4. Obregon scored on a pass from Pieres, and Pieres scored his sixth goal of the day for a 9-4 advantage. Astrada answered back with a goal for Casablanca with 45 seconds on the clock, but it was Villa Del Lago with the 9-5 halftime lead.
Casablanca returned to the field in the fourth chukker with a new look. A swarming defense kept Villa Del Lago off the scoreboard for the first time all day as Casablanca picked up a goal from Bollini and a pair of goals from Astrada. With two chukkers to play, Villa Del LAgo was ahead 9-8. Both defenses tightened in the fifth period with all three goals being scored from the penalty line. Roldan and Pieres traded 30-yard penalty goals, with Astrada converting from 60 yards out to create a 10-10 tie.
De Lusarreta left the ball on the field for a pouncing Astrada in the opening minute of the final chukker as the 9-goal Argentine carried it down the field for a go-ahead goal for Casablanca, 11-10. Ninety seconds later, Roldan scored to put Casablanca ahead by two goals, 12-10. Pieres rallied for a goal with three minutes left to bring Villa Del Lago to within a goal, 12-11, but a final goal from Astrada ended the threat, as Casablanca registered a 13-11 win in the opening high-goal tournament of the 2015 season.
"We weren't marking Polito [Pieres] in the first half," Roldan said. "We were playing too loose, and whenever we had the ball, we gave it away."
The team made the adjustments at halftime and came back with a renewed focus. "I chewed them out at halftime," said Marc Ganzi, father of Casablanca's Grant Ganzi and captain of the Audi polo team. "I told Miguel [Astrada] to put Nic [Roldan] on Polito in the second half, and it paid off."
Pieres had scored six goals in the first half but was held to just a pair of goals in the second half (one on a penalty shot), as the Casablanca team rode on for the victory.
Astrada led the Casablanca attack with eight goals and was named MVP for his efforts. His mare, Paulina, received Best Playing Pony honors. Roldan added four goals, and Bollini scored once for the win. Pieres scored eight times for Villa Del Lago, with Obregon getting credited with three goals.
The Herbie Pennell Cup is the first of seven high-goal tournaments being offered at IPC from January through April. The second of the 20-goal tournaments, the Joe Barry Memorial Cup, is now underway. The tournament attracted 11 teams with the final slated to be played on Sunday, Jan. 25. Learn more at www.internationalpoloclub.com.
ABOVE: Grant Ganzi, Juancito Bollini, Miguel Novillo Astrada and Nic Roldan claim the Herbie Pennell Cup. Photo by Alex Pacheco