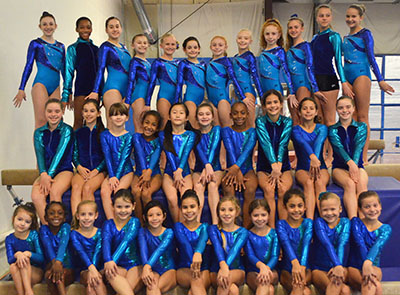 Only open two years, Epic Gymnastics of Palm Beach has already made headlines for the team's accomplishments.
Epic is the Level 5 USAG Florida champions, earning the first-place team title. The Level 3 team won third place in the state, while Level 2 took fourth place. The Epic gymnasts in levels 1 through 5 competing last season won 57 gold medals, 41 silvers and 35 bronzes. The Level 5 team was undefeated at all meets, and now the girls will be competing at Level 6. With the optionals season (levels 6 though 10) about to begin, Team Epic is hard at work training for meets across the state under head coach Boris Ponce De Leon and coach Becky Langmeyer.
Several of Team Epic's gymnasts are residents of Wellington, Loxahatchee and Royal Palm Beach. Epic also offers an excellent recreational program with fun and safe instruction for children at any level. For more information, visit www.epic-gymnastics.com.
ABOVE: The team from Epic Gymnastics won many medals last season.