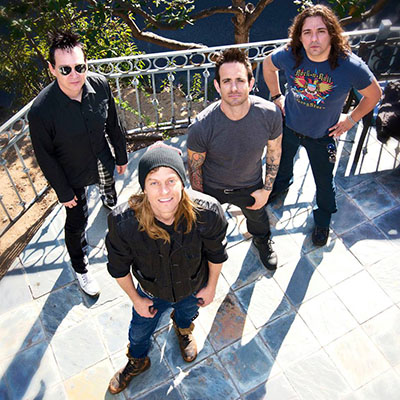 The 2015 edition of the South Florida Fair — running Jan. 16 through Feb. 1 — will offer a collective blend of country crooning, rock 'n' roll, Christian and alternative music, all together in one place. Along with a round of the Elvis Extravaganza National Competition, fairgoers will see a whole lotta shakin', rattlin' and rollin' going on. It's all part of the lineup on the 2015 South Florida Fair's Coca-Cola Stage.
Kicking off the national entertainment and playing the two central songs "Words" and "Made" from its sixth studio album Made, Hawk Nelson will take the stage on Sunday, Jan. 18 at 7 p.m. The band members believe fan involvement is crucial and hope to broaden their demographic reach with more mature themes and challenging lyrics.
Also on Sunday, Jan. 18, Christian band Sanctus Real follows at 8 p.m. Together for 16 years, the band has remained sure and steady in writing songs that reflect the complex journey of faith. Sanctus Real continually shines a light on struggles with songs like "I'm Not Alright," "Don't Give Up" and "We Need Each Other," which have emerged as encouraging anthems of hope and healing. The band will be featuring songs from its latest album Run.
Taking the stage on Tuesday, Jan. 20 will be Show Dog Universal recording artist Josh Thompson. His debut album Way Out Here has launched a trio of hits, including the top 10 singles "Beer on the Table," "Won't Be Lonely Long" and the title track "Way Out Here," establishing Thompson as a formidable young talent.
On Wednesday, Jan. 21, alternative band Hinder takes the stage to perform hits from its popular albums Extreme Behavior, Take it to the Limit, All American Nightmare and Welcome to the Freakshow. According to the band, "We don't want to be stuck in a rut with one type of sound or formula. We have every element covered."
On Thursday, Jan. 22, hundreds of motorcyclists will enter the fairgrounds on bikes to parade around the perimeter to celebrate the Annual Bike Night, which will culminate with a concert by Foghat, the internationally known band that has been on the rock 'n' roll and blues scene since 1971. That year, four unpretentious young Brits released their first LP, Foghat, producing the hit singles "I Just Want to Make Love to You" and "What a Shame." LPs to follow were Energized and Rock and Roll Outlaws. The 1975 album Fool for the City went platinum, yielding the Top 40 trademark hit "Slow Ride." The group has been together for 43 years, with Roger Earl on the drums throughout. The band's latest single "Boogie Train," was released in 2014, and Foghat is currently working on yet another CD. The band still tours relentlessly, feeding band members' love to play, which is evident in the passion and enthusiasm on display during live performances.
On Monday, Jan. 26 at 2 p.m., the ever popular Leroy Van Dyke Country Gold Tour will take to the stage. This year's ensemble features Eddy Raven, Jimmy Fortune and Moe Bandy. Van Dyke himself is internationally known as an extraordinary entertainer, recording artist, radio and television star, actor, auctioneer and veteran of the Nevada circuit.
On Tuesday, Jan. 27, alternative group Puddle of Mudd takes the stage at 8 p.m. A California rock band defined by a spirit of carefree wanderlust, the group has an innate chemistry that resonates throughout its latest album Volume 4: Songs in the Key of Love and Hate. Puddle of Mudd earned Billboard's No. 1 Mainstream Rock Song of 2008 ("Psycho"), as well as No. 2 Rock Band of the Year.
On Wednesday, Jan. 28 at 8 p.m., American country music duo Dan + Shay will be the leading attraction. Produced by Warner Bros. Records Nashville, the duo debuted with the hit single "19 You + Me" and received a 2014 Academy of Country Music Awards Vocal Duo of the Year nomination. A recently released album, Where It All Began, became Billboard's No. 1 album on the 2014 country charts. Dan Smyers and Shay Mooney opened for Blake Shelton's 2014 Ten Times Crazier Tour.
On Thursday, Jan. 29 at 8 p.m., the next to the final round of the Elvis Extravaganza National Competition takes place. The contest will feature a variety of Elvis impersonators competing for cash, prizes and a spot in the national finals set for Feb. 13-15 at the Florida State Fair in Tampa. The show is backed by the Extravaganza Show Band, horns and singers. Visit www.elviscontest.com for details.
General seating is free with a fair admission ticket. Reserved seating is also available for $10 for all concerts, which is in addition to the fair admission ticket, and are only available online at www.southfloridafair.com.
Advance discount tickets are on sale now at all Palm Beach County Publix supermarkets. Adult admission, 12 and older is $10 in advance and $15 at gate. A child's admission, under 12, is $5 in advance and $8 at the gate. Children age 5 and younger are admitted free, while seniors 60 and older pay $7 in advance and $9 at the gate.
The South Florida Fair, located at 9067 Southern Blvd., is produced by the South Florida Fair/Palm Beach County Expositions, a nonprofit organization. For more information, call (561) 793-0333 or visit www.southfloridafair.com.
ABOVE: Puddle of Mudd.