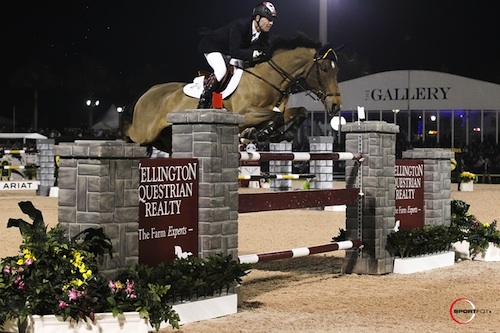 Canada's Ian Millar was the winner of last Saturday night's $50,000 Wellington Equestrian Realty Grand Prix CSI 2* aboard Ariel and Susan Grange's Dixson during week two of the 2015 Winter Equestrian Festival.
In a five-horse jump-off, Millar and Dixson topped the class by two one-hundredths of a second over Brianne Goutal aboard Remarkable Farms LP's Zernike K.
Course designer Luc Musette set a challenging track for the 45 starters in Saturday night's class under the lights of the International Arena at the Palm Beach International Equestrian Center. Only five entries were able to advance to the jump-off, but all went on to clear the short course. The top four were separated by just fractions of a second.
Paige Johnson and Salamander Farm's Dakota set the pace in the jump-off at 40.99 seconds to finish fourth. Cian O'Connor and Adena Spring's Quidam's Cherie upped the time in 40.27 seconds to place third. Millar and Dixson followed with the winning round in 40.10 seconds. Ljubov Kochetova and Veyron jumped into fifth place in 42.40 seconds, and Goutal wrapped up the night with a time of 40.12 seconds aboard Zernike K.
A 10-time Olympic veteran for Canada and one of the sport's most illustrious stars, Millar had a fantastic 2014 season with Dixson, including a big win in the $1.5 Million CP International Grand Prix at Spruce Meadows and a trip to France for the Canadian show jumping team at the Alltech FEI World Equestrian Games. Millar said that the 12-year-old Belgian Warmblood gelding never missed a beat coming back into competition after a short rest at the end of the season.
"He had been off since the third week of September, and I didn't start him until December again because he lives with Mrs. Grange," Millar noted. "He had a nice break, and when I got going with him, his conditioning came right back because they use a treadmill with him… It is so interesting with these horses how they remember; they don't forget a thing."
Dixson is related to Millar's great mount Big Ben and has always been special to the rider for that reason alone, but has proven his own talent in recent years.
"The greatest horse I ever had was Big Ben, and this horse is related to Big Ben on the mother's line," Millar said. "I felt very strongly about him when I saw him."
Millar enjoyed Saturday's course design. "Luc is one of my favorites because he is so subtle. He takes course design to an art form," Millar said. "That first course was extremely interesting. A course designer like that will find weaknesses in a horse and rider."
Although the time to catch was very fast, Goutal was just off the winning mark for her second place finish with Zernike K and was very happy with her mount's performance.
"He's amazing," she said. "He is just a really classical little guy with great style. He tries really hard. He has been a little up and down. He was a little bit inconsistent last year, but all summer long and fall up until now, he has been very consistent. He is wonderful, and he really gives it his best shot each time. I felt he was super smooth tonight."
O'Connor also had a great night with his mount, Quidam's Cherie, and was happy take home the third place prize.
"She is a nice mare. She placed third in the grand prix of Nations Cup week last year. She jumped really well. I only gave her one 1.40m class the first week and she jumped the WEF [Challenge Cup] well this week and went double clear tonight, so I was very pleased with her," O'Connor said. "It wasn't even one fifth of a second between the top three. It was a very competitive class."
The top riders all thanked sponsors Wellington Equestrian Realty for its support of the week's competition. Wellington Equestrian Realty representatives Craig Martin and Matt Varney were impressed with the evening's competition.
"It was truly an honor to watch Ian go," Martin said. "I have grown up watching him. He is a complete technician when it comes to this sport. I thought Brianne was nearly going to catch him at the end there, but it was a great class."
"We have been involved in some exciting grand prixs since we have been in town, which has been five years now," Varney added.
Millar and Goutal each noted the great turnout for this year's competition and the wonderful crowd that was at PBIEC to cheer them.
"I think traditionally the busiest time for the facility is somewhere in the middle weeks, and it is up over last year," Millar said. "Whether that is a reflection of the economy, or our sport is getting more popular, or this particular venue is drawing more and more, I don't know. It is probably a combination of all of them because this venue is unrecognizable compared to what it was a decade ago."
For her consistent performances this week, Johnson was presented with the Leading Lady Rider award from Martha Jolicoeur of Illustrated Properties in memory of Dale Lawler.
For more information, and a full schedule of events, visit www.equestriansport.com.
ABOVE: Canada's Ian Miller aboard Dixson. Photo by Sportfot