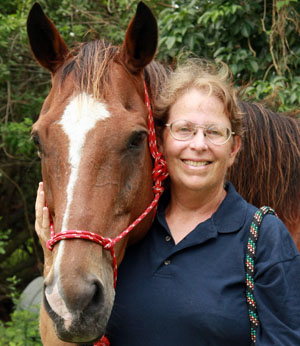 TALES FROM THE TRAILS
Mary Last is not a cold-weather person. Originally from Ohio, she moved to South Florida after high school. She has lived in The Acreage for more than 20 years, gradually watching many of her horse-owning friends move to North Florida.
"It has gotten pretty built up and citified around here," she said. "We're slowly losing our little bit of country."
But she and her horse and small donkey hang in there. Horses are where Mary's true passions lie. In 2008, she left the corporate world (although she still does some private bookkeeping) to start down a different path. She founded Hands On Equine Services.
"I wanted to give back to horses," she said. "They give so much of their heart and soul to us. I offer a variety of services. I didn't want to be pigeonholed into just one category."
One of the main services Mary provides is equine massage. She was certified in 2004 and is constantly working on updating and adding new techniques. Now Mary is working on earning her certification in the Masterson Method, which she describes as more of a light body touch rather than deep pressure.
"People don't realize how much massage can help horses," she explained. "Horses are masters at compensating for their injuries. As prey animals, they're genetically programmed to hide pain or discomfort, as that makes them vulnerable."
Mary puts the horse in charge when she works. "When I work with a horse, he dictates the session. I follow his lead and do what he allows and where he directs me," she said. "I take the time it takes. If it's an old, entrenched injury, it's probably going to take more than one session to alleviate the problem. Seeing the tension finally go is my reward."
Mary also offers horse care and pet sitting. "I naturally fell into that. Horse owners always need backup for vacations or emergencies. I do all the usual stuff — feeding, mucking out, turning out, whatever's needed. It's good to have someone who knows what they're doing and can watch out for potential problems."
Mary can also help novice horse owners who aren't quite sure what they're doing to learn the basics of natural horsemanship. "I can assist them in general ways to do things, or with specific training tips," she said.
She's a strong believer in giving back to the horse community, having volunteered to massage the horses at Healing Horse Therapy Center in Loxahatchee Groves. "The therapy horses always overcompensate for their riders. They do such an important job, that I wanted to reward them and help them feel better," Mary said.
Mary attended one of the center's open houses this past fall, where she met founder and Executive Director Maurette Hanson.
"We got to talking, and she was very interested in our work," Maurette said. "I was absolutely thrilled to have her come and work on the horses. We started with Eve, a very special, steady, nurturing mare who does everything kindly and willingly."
Mary visits the facility every Friday morning.
"Her work's amazing. Eve relaxes completely. She has improved tremendously. She is more fluid and clearly feels a lot better. Mary is going to start on Denver next, a gentle gelding. I know it'll help him a lot, too," Maurette said. "Mary is a very in-tune, sensitive person, calm and respectful of the horse. She always waits for the horse to invite her in, especially if there is a sensitive or painful area. Horses love that. I've watched her work on Eve out in the pasture. The ponies come and stand nearby, absorbing the calm energy, and relaxing, too. I can't recommend Mary highly enough."
Christine Gregory is the barn manager at Trails End Farm in Palm City. She has watched Mary work on various horses.
"Mary is a pleasure to work with," Christine said. "She is very knowledgeable. It's amazing how much the horses improve after her sessions. She is really in tune with them and gets right to their problem areas. She is also good with owners, who can sometimes be a little hard to please. That's a nice plus for me."
ChrYistine added that Mary has a way of bringing out the best in both horses and people.
"Horses love massages," Mary agreed. "They're just like us. They want their stress, pain and tension gone. Massage helps specific injuries, but it also improves the whole horse. There's no disadvantage."
For more info., call Mary Last at (561) 644-4903 or visit www.handsonequineservices.com.