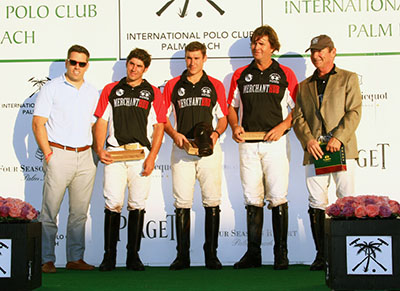 By Alex Webbe
Merchant Hub (Scott Swerdlin, Marianito Obregon, Facundo Obregon and Luis Escobar) recorded its first win of the season in Joe Barry memorial Cup competition at the International Polo Club Palm Beach last Sunday afternoon by downing FlexJet (Melissa Ganzi, Guille Aguero, Miguel Novillo Astrada and Juan Bollini) 11-8.
The 19-goal Merchant Hub team received one goal by handicap, but FlexJet scored the first goal of the game on a 30-yard penalty conversion from Aguero for a 1-1 tie. Astrada made it 2-1 on a goal from the field with 1:34 left in the chukker.
Merchant Hub came alive in the second chukker with goals from Marianito Obregon and his brother Facundo Obregon for a 3-2 edge. Astrada leveled the score at 3-3 with a goal in the final 48 seconds of the chukker.
Escobar scored the go-ahead goal in the opening 30 seconds of the third chukker for a 4-3 Merchant Hub advantage. Astrada converted a 40-yard penalty shot for a 4-4 score. Bollini and Marianito Obregon traded goals to end the first half deadlocked at 5-5.
The fourth chukker remained scoreless until Marianito Obregon found Facundo Obregon with a pass that he redirected to a streaking Escobar, who scored, giving the lead to Merchant Hub, 6-5. With 1:28 on the clock, Marianito Obregon scored to give Merchant Hub a 7-5 lead.
Fifth chukker action got underway with Marianito Obregon scoring the first goal of the period, and his brother adding the second as Merchant Hub stretched its lead to four goals, 9-5. Astrada got FlexJet on the scoreboard with a 40-yard penalty conversion, 9-6, adding a goal from the field moments later to cut the Merchant Hub lead to two goals, 9-7. Facundo Obregon closed out the chukker by scoring from the field with nine seconds on the clock. With one chukker left to play, Merchant Hub held a 10-7 advantage.
FlexJet pressed the attack in the sixth, with shots being blocked or going wide of the goal. Astrada converted a 30-yard penalty shot with nearly six minutes left to play, but that was where it ended. Escobar scored on an impressive angle shot from just off the end line that gave Merchant Hub the security goal they needed as they rode on for the 12-8 victory.
Facundo Obregon led the Merchant Hub offense with four goals and earned MVP honors. Escobar and Marianito Obregon scored three goals each, and the team received one goal by handicap. Astrada scored a game-high six goals (three on penalty shots). Bollini and Aguero scored single goals in the loss. Halo Polo's Oro (played by Juan Bollini in the fifth chukker) was named Best Playing Pony.
Villa Del Lago 15, Lechuza Caracas 10 — In earlier Joe Barry Memorial Cup action Villa Del Lago (Jim Zenni, Agustin Obregon, Polito Pieres and Julian de Lusarreta) remained undefeated (3-0) as the team bounced back from a 7-3 halftime deficit to defeat Lechuza Caracas (Peke Gonzalez, Marcos Alberdi, Juan Martin Nero and Martin Espain) 15-10.
Enigma 14, Coca-Cola 13 — Enigma (Jerome Wirth, Jeff Hall, Matias MacDonough and Carlucho Arellano) registered its second win of the season, improving its record to 2-1 as they downed Coca-Cola (Gillian Johnston, Sugar Erskine, Julio Arellano and Mason Wroe) 14-13 in a hard-fought match last Sunday morning at IPC.
Joe Barry Memorial Cup action continues this weekend at IPC with the final slated to be played on Sunday. Learn more at www.internationalpoloclub.com.
ABOVE: Merchant Hub outlasted Flex Jet to win Sunday's featured match. Photo by Alex Pacheco