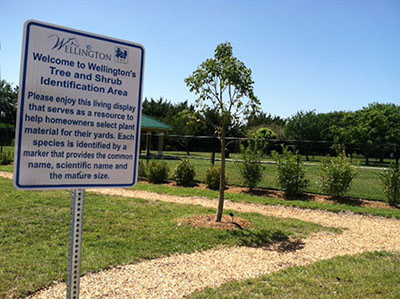 Wellington has planted an area where residents can see firsthand the native species that are desirable for planting in their own yards in place of detrimental exotic plants that can often be found overgrown and crowding out native landscaping.
Wellington's arboretum, located near the Wellington Dog Park on Greenbriar Blvd., has approximately 30 Florida-native plants that are well-suited to the climate and are both drought-resistant and slow-growing. That way, they don't come to dominate the landscape and require less maintenance.
Brian Hopper, operations supervisor in charge of landscaping and forestry for the village, said the arboretum has been open for about four months.
"We wanted to make sure that the word got put out there sufficiently so that everyone would know about it," Hopper said. "There's a good mix of plants and trees. There's hardwood trees, palms and also shrubs. The intent behind it was to have a one-stop shop where residents can go and view different plants and trees that are available for their own yards."
The shrubs on display are of particular interest.
"We decided to include a lot of shrubs," Hopper said, "because everyone is having such issues with their ficus hedges. We wanted to show some different options instead. If people choose to replace their ficus hedges, some of these other shrubs would be smart choices for them."
Ficus is a fast-growing plant that requires frequent pruning. It has a horizontal root system that tends to get into irrigation systems and destroy sidewalks and driveways, Hopper said.
"They want to ultimately be very large, so that's why people have to trim them so frequently," he said. "A ficus hedge wants to be a ficus tree, so you constantly have to battle them back. There are some other options out there that don't grow quite as fast… so you just kind of have to nip them back a little bit to keep them in check."
Also, ficus in Wellington has been hit hard by the invasion of the ficus whitefly, which has left some hedges around the community in disrepair.
The village has several shrub varieties at the arboretum, all planted in groups of three along fences, so visitors can get an idea of what they would look like as a hedge.
"They all have markers saying what each of them are and how big they get," Hopper said.
They include coco plum, myrsine, Simpson's stopper and Spanish stopper, to name a few.
The numerous trees include live oak, gumbo limbo, royal palm, pigeon plum, green buttonwood, bald cypress and slash pine.
Undesirable plants and trees that the village would like to see phased out include invasive exotics such as ear-leaf acacia, which tends to grow quickly and has an invasive root system and soft, brittle limbs that break off easily in a storm. A more desirable replacement might be a live oak, Hopper said.
Schefflera and bischofia are other species that have turned out to be too aggressive for many South Florida landscapes, Hopper said.
The project was initiated by the village to promote better and easier-to-maintain landscapes.
"It was a project that the Wellington Tree Board was in great support of and had wanted to see done for a little while," Hopper said. "We were able to make it happen."
Wellington's Planning & Zoning Department can advise residents as to what plantings meet village code, but Hopper recommended a landscaping architect if residents need aesthetic advice. He also pointed out that the village is not requiring the removal of any existing landscaping, only giving advice and support for those wishing to make changes and/or upgrades.
Hopper recommended the University of Florida's numerous web sites as reference for plant types. "It's a great resource," he said. "They have hundreds of fact sheets on trees."
The arboretum is located at 2965 Greenbriar Blvd. near Aero Club Drive, at the rear of the Wellington Dog Park's parking lot. Learn more by visiting www.wellingtonfl.gov.
ABOVE: The new arboretum is located near the Wellington Dog Park on Greenbriar Blvd.