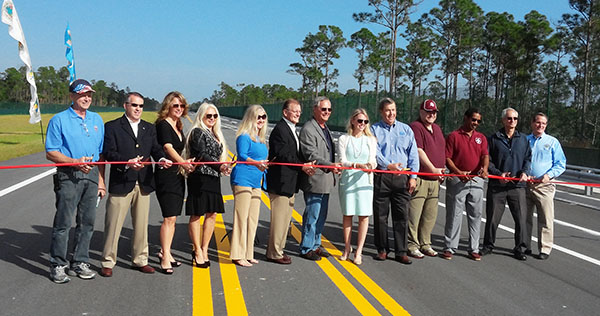 A ribbon-cutting ceremony led by Palm Beach County officials officially opened the second leg of the State Road 7 extension, from Persimmon Blvd. to 60th Street North, and west to Royal Palm Beach Blvd., on Wednesday morning.
County Commissioner Melissa McKinlay thanked local leaders for attending, including some from Royal Palm Beach, Wellington, Loxahatchee Groves and the Indian Trail Improvement District, as well as officials from the Palm Beach County Metropolitan Planning Organization.
"Most important has been the Indian Trail Improvement District, which has been our partner on this project," McKinlay said. "We've got President Carol Jacobs and supervisors Michelle Damone, Ralph Bair and Gary Dunkley, and District Manager Jim Shallman."
McKinlay also recognized her former bosses, Assistant County Administrator Brad Merriman and County Administrator Bob Weisman, as well as County Engineer George Webb.
"I would be remiss if I stood up here and tried to take credit for this project," she said. "It was actually my predecessor, former Commissioner Jess Santamaria, who was sitting on the dais when these decisions were made."
McKinlay pointed out that the SR 7 extension will be a welcome relief for roads that are over capacity in the area, and especially for residents along Orange Grove and Persimmon boulevards, who have taken the brunt of traffic from the first leg of the extension in the past several years.
"The county is absolutely committed as this project continues to push northward in working with all the neighbors to address some of their concerns, and make sure that the full connection that has been promised for many, many years goes all the way up to Northlake Blvd.," McKinlay said.
Jacobs said the county had stuck to its promises to complete the road, explaining that the district had been reluctant to open Persimmon and Orange Grove boulevards to traffic initially because of concerns the road might wind up going no farther. "[George Webb] stuck true to his word, and he's my hero," Jacobs said.
Damone, who also sits on the Western Communities Council, thanked fellow members for their continued support for the road.
"We as a team with our constituency really have brought this road where we are right here today," she said. "When I began advocating for State Road 7 to move north, I was young; I was 27. I'm now 44 with gray hair, but during my four terms serving Indian Trail, I have promised the residents of The Acreage, and every board that I have served on has promised, that we would do everything within our power to move this road forward, and we are following true on those promises. I'm not going to stop until this road is connected all the way up to Northlake."
McKinlay pointed out that the environmental studies have been approved to complete the road to Northlake Blvd.
"We've had a little bit of a bump in the road with the Florida Department of Transportation pushing it back, but I'm absolutely committed to working with our legislative affairs team, the Western Communities Council and Nick [Uhren] with the MPO on trying to push that one back up to 2016 or 2017 where it ought to be," she said.
ABOVE: Dignitaries cutting the ribbon included (L-R) Loxahatchee Groves Councilman Jim Rockett, Wellington Councilman Matt Willhite, ITID Supervisor Michelle Damone, ITID President Carol Jacobs, Wellington Councilwoman Anne Gerwig, Royal Palm Beach Councilman Jeff Hmara, ITID Supervisor Ralph Bair, County Commissioner Melissa McKinlay, Royal Palm Beach Vice Mayor David Swift, Royal Palm Beach Councilman Richard Valuntas, ITID Supervisor Gary Dunkley, County Administrator Bob Weisman and County Engineer George Webb.