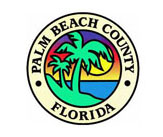 Legislative Affairs Director Todd Bonlarron updated the Palm Beach County Commission on Tuesday about the county's 2015 legislative agenda and highlighted some of the accomplishments of 2014.
County legislative staff was successful in getting the Environmental Protection Agency to back off for now on enforcement of its recently created numeric nutrient criteria.
"The numeric nutrient criteria was an issue that we fought hard back on, and the EPA withdrew their federal rules in September of last year," Bonlarron said, explaining that the county has been among the leaders in the discussions going on and rulemaking, and in working with legislators, the EPA and the U.S. Army Corps of Engineers on the rules.
The county also received more than $1 billion last year for Comprehensive Everglades Restoration Plan projects, water resource funding of $65.5 million for construction of restoration projects, and almost $20 million for operations and maintenance.
Meanwhile, the State Road 7 extension to Northlake Blvd. received a favorable biological opinion on the snail kite study as a result of work with federal agencies.
For public safety, the county received $75 million for repairs to the Herbert Hoover Dike and was successful in getting relief to homeowners for new flood insurance regulations. It also worked with the Federal Emergency Management Agency to get significant beneficial changes to the proposed flood maps.
"We have become a model in the State of Florida on how to work with FEMA on these issues through the appellate process," Bonlarron said.
He hopes to build on those achievements and other county-related issues in 2015.
The federal agenda proposed for the year includes bringing forward a climate compact with Broward, Miami-Dade and Monroe counties.
"We will also continue to work on the Hoover Dike project," Bonlarron said. "We've been actively working with a colonel at the Corps of Engineers to continue to expedite that, as well as the [water standards] and continue to push back with federal regulators on how that could affect us, and we'll continue to do that this next year."
Bonlarron's office also plans to continue to push for better regulations of sober homes at the state and federal level, and will continue to work with the congressional delegation on that.
Flood insurance issues will continue to top the agenda.
"The pushback that we've done has gotten us some favorable results, but we still have a long way to go, particularly in the Glades region with the Herbert Hoover Dike and the flood areas in that region, and we're going to have to continue to work on those issues," he said.
The county also wants to be involved with the so-called "Cadillac Tax" under the Affordable Care Act. "Basically, what it does, is it would penalize us for having a program for our employees that is considered too generous," he said. "One of the things that staff has asked us is if we can look at that, and there's a number of different strategies about how we can approach this with the federal government."
Bonlarron expects that initiative to take some time.
"It doesn't kick in for several years," he continued, "but I think we need to start working now to see if we can find some alternatives to that Cadillac Tax if our board is going to continue to provide the same benefits to our employees in the future and not be penalized with millions of dollars in fines."
Mayor Priscilla Taylor asked about the status of the numeric nutrient criteria rules, and Bonlarron said his staff brought together representatives of the EPA, the Department of Environmental Protection and the South Florida Water Management District for a two-day discussion.
"We have drafted a lengthy response and comments to them with about a half-dozen or more suggestions," he said. "We're still in that comment period working with them. I feel like we've gotten a good conversation going with them, and we've gotten a lot of support."