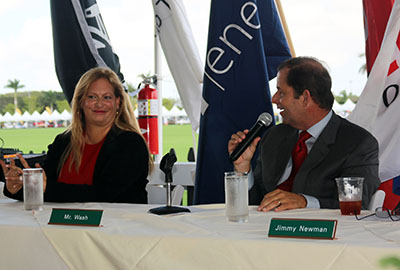 The 2015 polo season opened last weekend at the International Polo Club Palm Beach, and it promises to be an exciting one.
As the players prepared to take the field for the final match of the Herbie Pennell Cup, IPC President of Club Operations John Wash, IPC Director of Polo Operations Jimmy Newman, USPA Chief Executive Officer Peter Rizzo, Flight Options team patron Melissa Ganzi, American high-goal polo player Mason Wroe and Tackeria owner and "voice of polo" Tony Coppola gathered to provide an overview of the season.
Wash thanked the Rinker School of Business at Palm Beach Atlantic University. For the fourth year, the school is operating the Kids' Fun Zone as a school project, where proceeds help provide scholarships to students learning about international business.
He was also bullish on the future of polo in Wellington.
"I'm pleased to share the exciting news that the International Polo Club and the United States Polo Association have entered into a new four-year agreement through the 2018 season," Wash said. "I'm happy to report that the most prestigious tournaments in the world will continue to be played here at the best polo club."
IPC has hosted the U.S. Open for the past 15 years, Rizzo said, which might be the longest consecutive string of hosting. "Polo is well-rooted into this community and into this state, and we're excited about that," Rizzo said.
The quality of the polo at IPC is exceptional, he added.
"Some of the best polo is played here," Rizzo said, explaining that the key goal of the USPA is to grow the sport. "Our key goal is to grow players who actually play polo to come and watch polo."
Coppola, who has been announcing polo matches since the 1970s, is focused on making the sport better and bringing more attention to it. He has seen the changes, including the inclusion of new up-and-coming talent.
"This is what it's all about…. this is what really brings it about and makes it better and better every year," Coppola said, noting that Grant Ganzi and Juancito Bollini, both teenagers, 16 and 18, are upcoming bright stars in the sport. "It's great to have these young stars."
Wroe, a member of Team USPA, is part of the roster that will represent the U.S. in Chile, and has played polo around the world. IPC, however, is special.
"It's like nothing else in the world," Wroe said, playing this season for the Coca-Cola team at IPC. "This is an elite club, an elite venue to play polo at. It's an honor to be part of a team playing the high-goal here."
Grand Champions Polo Club owner Melissa Ganzi agreed that playing at IPC is unique.
"Playing at the International Polo Club is getting better and better every year. It's a unique club in that it has 26-goal polo. Outside of Argentina, it's the highest level of polo played. Each year, the teams get more and more competitive. I think this is a very exciting season, and we're really happy to have a sponsor from England come play here as well."
Grand Champions and IPC complement each other, Wash noted, thanking the Ganzis for all they do to promote polo in Wellington and around the world.
One thing the Ganzis are doing to provide exposure of polo to the mainstream community is through Chukker.TV.
"Live-streaming is becoming more and more important in polo. I think that we see that all over the world; it's becoming the norm," Ganzi said.
NBC and other television networks, Wash said, are working toward bringing polo to the mainstream.
Rizzo agreed. "One of our main talking points is 'refined adrenaline,'" he said. "When you look at Mason galloping down the field on a horse, at 40 miles an hour, trying to tie the game up, he has to be cool, refined, he has to think about just one thing. And yet, you just see it. And somebody's coming after him at 40 mph trying to stop him. That's our game, and that's what we're trying to portray on television in any way we can."
Ganzi, recently appointed as the Florida Circuit Governor for the United States Polo Association, noted that polo in Florida stands out.
"Florida is unique in that polo happens 12 months out of the year here. We play every level of polo, from zero- to two-goal tournaments to 26-goal level," she said. "I think that that's really unique."
After the discussion, the final game of the Herbie Pennell Cup featured Casablanca (Grant Ganzi, Juancito Bollini, Miguel Novillo Astrada and Nic Roldan) versus Villa Del Lago (Jim Zenni, Agustin Obregon, Polito Pieres and Julian de Lusarreta), with the Casablanca team winning the cup.
The second of the 20-goal tournaments, the Joe Barry Memorial Cup, is now underway. The tournament attracted 11 teams with the final slated to be played on Sunday, Jan. 25. Learn more at www.internationalpoloclub.com.
ABOVE: Grand Champions owner Melissa Ganzi and IPC President John Wash discuss the future of polo in Wellington.