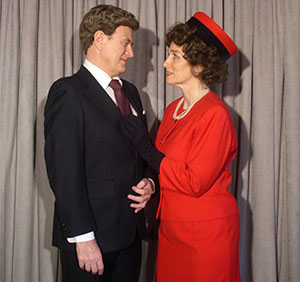 Presidents Project will be sponsoring a fundraiser for the West Palm Beach Fisher House on Tuesday, Jan. 27 at the Royal Palm Beach Cultural Center starting at 10 a.m.
Entitled "From Gettysburg to Camelot," the national touring company Presidents and Their First Ladies, Dramatically Speaking, will present the life stories of Abraham and Mary Lincoln and Jack and Jackie Kennedy.
For the past 19 years, William and Sue Wills have toured the country presenting their unique theatrical presentations on 33 different Presidents and First Ladies. Many of those performances have been in the Palm Beach County area at local libraries and retirement communities. They are not "impersonators," but hope that their costumes, dialects and demeanors will help recreate these historical characters, making them more than just names read in history books. A great testament to the quality of the shows is that they have returned to many locations for all 19 years they have been touring.
The West Palm Beach Fisher House is located on the ground of the VA Medical Center providing military families housing close to a loved one during hospitalization for an illness, disease or injury. The West Palm Beach Fisher House is one of the busiest in the nation and has just undergone renovations to provide even more comfort for visiting families.
Presidents Project Inc. was formed by William and Sue Wills in 2013 to make presentations that would benefit organizations helping wounded soldiers and their families, and has already raised nearly $3,000. As organizers and performers, the founders receive no compensation. All donations, minus expenses for the rental and advertising, will go to the Friends of the West Palm Beach Fisher House.
Visit www.presidentsproject.org to make a $25 donation and to receive a ticket for the performances. Those who cannot attend are also welcome to visit the web site and make a donation. Donations can also be sent to: Presidents Project Inc., 1853 Linden Road, Winter Park, FL 32792. For more information, call (443) 366-3429.
ABOVE: William and Sue Wills as Jack and Jackie Kennedy.