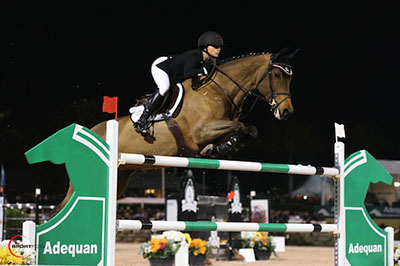 Georgina Bloomberg guided Gotham Enterprizes LLC's 11-year-old Brandenburg mare Lilli to the big win in last Saturday night's $127,000 Adequan Grand Prix CSI 3* at the 2015 Winter Equestrian Festival.
In a five-horse, all-American jump-off, Bloomberg topped the class over Laura Chapot and ISHD Dual Star in second, Wilton Porter with Diamonte Darco in third, Schuyler Riley and Dobra de Porceyo in fourth and Todd Minikus with Babalou 41 in fifth.
With a class of 45 entries and 13 different countries represented, the five American riders were the only contestants able to make it through to the jump-off over Leopoldo Palacios' course. The competition was the highlight event of week three, sponsored by Adequan.
First to go in the grand prix jump-off, Chapot raced through the short course with Mary Chapot's ISHD Dual Star and set a very fast pace in 48.06 seconds. Minikus followed with Two Swans Farm's Babalou 41, finishing almost four seconds faster in 44.77 seconds, but had a rail going into the double combination. Riley and Wolfstone Stables' Dobra de Porceyo were next to go with a clear round in 49.66 seconds. Porter and Sleepy P Ranch LLC's Diamonte Darco crossed the timers clear in 48.43 seconds. Last in the ring, Bloomberg and Lilli galloped to victory in 46.98 seconds.
Bloomberg has ridden Lilli for about two and a half years and stepped the mare up to the grand prix level last year. Lilli has served as a second horse to Bloomberg's top mount, Juvina, but is now moving up to even out the workload. "This was one of my first big grand prixs with her and my first time jumping her under the lights," Bloomberg said. "I have felt more confidence with her, and she has been jumping well over bigger jumps. I felt like tonight was a good opportunity for her to step up, and I was very happy with her."
Bloomberg admitted that although she watched some of Chapot's opening round in the jump-off, she did not pay close attention to it because she did not think she would be able to catch the speedy rider.
"I thought that whatever I did, she would be faster, so there was no point in watching her go," Bloomberg laughed. "I didn't get to watch her round carefully enough to see the route she took, but my horse has a big stride. Even though her horse is quicker, I tried to make up for the fact that I'm on a big, slow horse and leave strides out between the jumps."
This was Bloomberg's first win in a major Saturday night grand prix at WEF, as well as a great start to her 2015 season.
"I have never won a Saturday night class here before. This is my first, and my first big class of the season, so it is nice to start out on a good note," she said. "I have to add that I think all of the riders are appreciative of Adequan's support for the sport. I think Adequan's involvement in the sport is greatly under-appreciated for the amount that they do, and I know that we all really appreciate it. I also have to say that it is a huge honor to beat every rider in this class, but especially to beat Laura Chapot. I think anybody who competes the rest of the week in the other rings knows how much she wins and how difficult it is to beat her."
With her second place round, Chapot's mount ISHD Dual Star marked a great start to her season as well, and Chapot was very happy with the performance.
"This is probably the most difficult course I have shown with her," Chapot noted. "I was very, very pleased with the way she went. My plan in the jump-off was really to just put in a clear and prompt round. I think there were a couple of places I definitely could have been a lot faster, but I really just wanted a good, solid round, and to try and make everyone else try and beat that. She is a naturally careful horse, so I had to take a few little chances. She tries hard, and she was jumping great."
Wilton Porter's horse, Diamonte Darco, was jumping in her very first Saturday night class, and Porter was focused on giving his mare the best experience possible.
"This was my first time competing in a Saturday night WEF grand prix with her, so I am really happy with her," Porter said. "My plan was the same as Laura. I wanted to have a nice, prompt round in the jump-off and have a positive experience for my hose. She was really good, so I am pretty pleased."
Allyn Mann, director of the Animal Health Division at Luitpold Pharmaceuticals, makers of sponsor Adequan, was on hand to witness the fantastic competition.
"First of all, Georgina, congratulations on your first Saturday Night Lights win. Wilton, congratulations on your first Saturday Night Lights competition with your horse and Laura, you are just awesome and keep doing what you are doing and you will end up back here in the winner's circle for sure," Mann praised. "We are just really blessed to have the opportunity to be involved with Mark [Bellissimo] and the Winter Equestrian Festival, as well as the Adequan Global Dressage Festival. It is two completely different environments, but the people are so special and that is really what the journey is all about."
Bellissimo, CEO of Equestrian Sport Productions, was thankful for Adequan's sponsorship.
"There were great athletes here tonight, and it takes great sponsors to make this work. Allyn has been such a great supporter the last several years, and we are excited about that relationship and hope we will be working more and more together in Wellington."
For more information, and a full schedule of events, visit www.equestriansport.com.
ABOVE: Georgina Bloomberg rides Lilli Saturday night at WEF. Photo by Sportfot