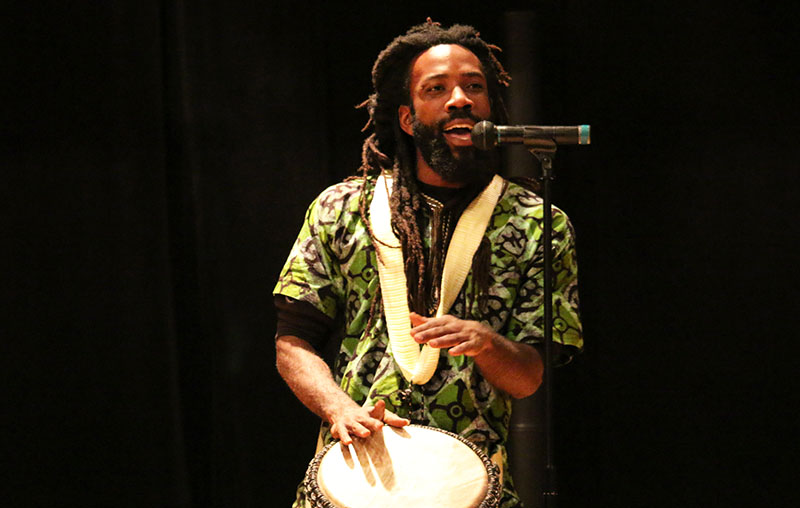 The Royal Palm Beach Cultural Center was filled to capacity Monday as the Caribbean-Americans for Community Involvement (CAFCI) and the Village of Royal Palm Beach presented the 13th annual Dr. Martin Luther King Jr. Celebration.
This year's theme was "Love… The Most Durable Power in the World." The event was organized by CAFCI's Cultural Committee, led Cultural Director Elet Cyris and committee members Marjorie Aiken, Hope Francis, Margaret Granada, Shirley Morrison, Paul Baker, Hensworth Fergueson, Ernie Garvey, Winsom Martin and Geneive White.
Sponsored in part by a grant from the Cultural Council of Palm Beach County, the celebration began with a continental breakfast from 8:30 to 9:30 a.m., where attendees gathered, chatted and got ready to enjoy an outstanding presentation and show.
The presentation began with a flag ceremony led by Boy Scouts Troop 111, followed by the Pledge of Allegiance, and the national anthem sung by Demi Master and Lauren Galin. Father Willie Davila led the crowd in an invocation.
Royal Palm Beach Councilman Pinto created a transition to the program, reminding attendees of the reason for the gathering.
"Are you ready to celebrate a wonderful man who has meant so much to this country and so much to this world, Dr. Martin Luther King Jr.?" he asked.
The CAFCI initiative began 13 years ago, Pinto said, before recognizing local dignitaries, including former County Commissioner Jess Santamaria; Wellington Mayor Bob Margolis; Royal Palm Beach Mayor Matty Mattioli, Vice Mayor David Swift and councilmen Richard Valuntas and Jeff Hmara; County Commissioner Melissa McKinlay; and Riviera Beach Mayor Thomas Masters.
CAFCI President Dennis Wright then took the podium and said, "Welcome to everyone today as you help us celebrate Dr. Martin Luther King's Day, his birthday. It is an honor and a privilege to welcome you all to the 13th annual Dr. Martin Luther King Day Tribute Celebration."
Last year, he said, CAFCI presented 17 scholarships to help students achieve their dreams. CAFCI has many programs, including some for seniors.
"Many people remember Dr. King for his March for Freedom and his 'I Have a Dream' speech, but his legacy was much more than that. He provided the impetus and the leadership to end the fear of living, especially in the south, for African-Americans," Wright said. "To many of us, that fear is over, but we know the battle has not yet been won. We must fight to end brutality. We must continue to fight to end economic injustice, for an end to the prison industrial complex that incarcerates some of our youngsters today. It is critical that we continue to fight for new rights and to maintain the ones that we already have."
Mattioli said he was honored to participate in the celebration of King's legacy.
"It is time for the nation to remember the injustices Dr. King fought. A time to remember his fight for freedom, equality and dignity of all races and people. A time to remember the message of change through nonviolence. Dr. King guided us to the mountaintop, in which all Americans, regardless of skin color, live together in mutual respect and brotherhood," Mattioli said.
Faith Place Center's Steel Drum Team played a selection, dancing along to the music, drumming and energizing the crowd. Next up was Wellington High School's Blue Diamond Step Team, which presented a performance starting with various dancing styles, ending in what is often thought of as step dancing. Ten-year-old Kate Deviney wowed the crowd with her violin abilities both times that she performed.
Following Deviney was another youngster, Tehya Morris, who at 7 years old performed a dramatic poem on her first turn at the stage and a praise dance on her second run. Morris has been part of the event since she was 3 and was completely comfortable on stage.
The keynote address was given by Eric Gordon of the Royal Palm Beach Rotary Club. He introduced the mission and accomplishments of Rotary with the audience.
"We're here today to celebrate a great man and a visionary," he said. "More importantly, his ideas, and a vision for a better and less complicated community for all, locally and globally."
Broadway singer Avery Sommers captivated the audience as she belted out hit after hit in true star fashion, then Master was joined by the rest of the C.A.S.T. performers as they sang and danced to selections from Matilda. Later, Master returned to the stage, where she sang multiple selections, including "Stupid Cupid."
Other performers included African drummer Abasi Hanif, who entertained the crowd with a fast-paced interactive demonstration, and Virtuoso Violinists Sons of Mystro performing multiple selections in a dynamic, responsive manner that entertained the crowd.
Cyris closed the program by thanking her committee, which has helped put together the event for the last 13 years. She also thanked the CAFCI board, sponsors, officials, speakers and performers for making the event what it is. "I would like to thank all of you for spending this morning with us," she said. "See you all next year!"
Valuntas took the microphone after Cyris and ended the event by quoting Dr. Martin Luther King Jr. to a cheering crowd.
For more information about CAFCI, visit www.cafcipbc.org.