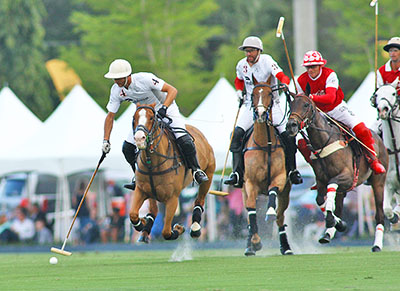 By Alex Webbe
Joe Barry Memorial Cup action is in full swing at the International Polo Club Palm Beach. The featured match last Sunday saw Villa Del Lago (Jim Zenni, Agustin Obregon, Polito Pieres and Julian de Lusarreta) record a 13-11 win over Coca-Cola (Gillian Johnston, Sugar Erskine, Julio Arellano and Mason Wroe) to remain undefeated at 2-0. The loss was the second for Coca-Cola, which fell to 0-2.
Argentine 9-goaler Pieres scored the first goal of the game to give Villa Del Lago an early 1-0 lead, but the celebration was short-lived. Less than a minute later, Arellano tied it with a 30-yard penalty conversion. Pieres responded with a 60-yard angled shot from the field for his second goal of the game. Arellano tied it at 2-2 with 1:35 left in the chukker, and team captain Gillian Johnston gave Coca-Cola the lead with the final goal of the period, making it 3-2.
Arellano stretched the Coca-Cola lead to two goals, 4-2, with a scoring shot in the second chukker. Pieres responded with a goal from the field just a minute later, and teammate de Lusarreta tied it at 4-4 with his first goal of the day. Arellano scored the go-ahead goal with 2:23 on the clock to give the lead to Coca-Cola, 5-4. A penalty and ensuing technical foul called on Pieres allowed Arellano to convert the penalty shot for a goal and watch Pieres get ejected for the remaining 1:23 of the chukker. Playing four on three, Arellano notched another goal to put Coca-Cola on top, 7-4.
Pieres wasted little time redeeming himself as he scored the opening goal of the third chukker in the first 25 seconds of play, making it 7-5. Erskine scored his first goal of the game to keep Coca-Cola on top by three goals, 8-5. Pieres converted a 40-yard penalty shot to end the scoring in the first half with Villa Del Lago trailing, 8-6. Goals were hard to come by in the fourth period as Arellano converted a penalty shot with just 3:34 left to play. Pieres scored a goal from the field, but it was Coca-Cola with the 9-7 lead entering the fifth chukker.
Pieres opened the fifth with a penalty goal to cut the Coca-Cola lead to a single goal, 9-8. Arellano converted a penalty shot of his own to push the Coca-Cola lead back to two goals, 10-8. Obregon scored a goal from the field followed by two more goals from Pieres (one on a penalty shot) that gave the lead to Villa Del Lago, 11-10.
Obregon's second goal of the game opened the scoring in the sixth period, giving Villa Del Lago a two goal lead, 12-10. Erskine scored to cut the Villa Del Lago lead back to a single goal, 12-11. With time running out, Pieres scored the final goal of the game for the hard-fought 13-11 victory.
Pieres led all scoring with 10 goals. Obregon scored twice and de Lusarreta added a goal for the win. Arellano scored seven of his team-high nine goals on penalty conversions. Erskine was credited with two goals, while Johnston scored once in a losing effort.
Orchard Hill Defeats Merchant Hub — Orchard Hill (Steve Van Andel, Lucas Criado, Facundo Pieres and Remy Muller) registered its second consecutive win Sunday morning with a 12-11 victory over Merchant Hub (Scott Swerdlin, Marianito Obregon, Facundo Obregon and Luis Escobar). Pieres scored eight times for the Orchard Hill win. Criado and Van Andel added two goals each. Merchant Hub got seven goals from Obregon (four on penalty shots). Escobar added three goals, and the team received one goal by handicap.
Flight Options Over Lechuza — With 16-year-old Justin Daniels filling in for Melissa Ganzi, Flight Options (Justin Daniels, Guille Aguero, Miguel Novillo Astrada and Juan Bollini) scored an 8-7 win over Lechuza (Victor Vargas, Marcos Alberdi, Juan Martin Nero and Martin Espain) Sunday afternoon in their first Joe Barry Memorial Cup match. Astrada led all scoring with four goals. Aguero scored three times, and Daniels added a goal for the victory. Nero scored two of his team-high three goals on penalty shots. Espain added two goals (a penalty goal and a goal from the field), with Alberdi and Vargas scoring single goals in the loss.
Joe Barry Memorial Cup action continues this weekend at IPC with the final slated to be played on Sunday, Jan. 25. Learn more at www.internationalpoloclub.com.
ABOVE: Villa Del Lago won a hard-fought victory last Sunday at IPC. Photo by Alex Pacheco