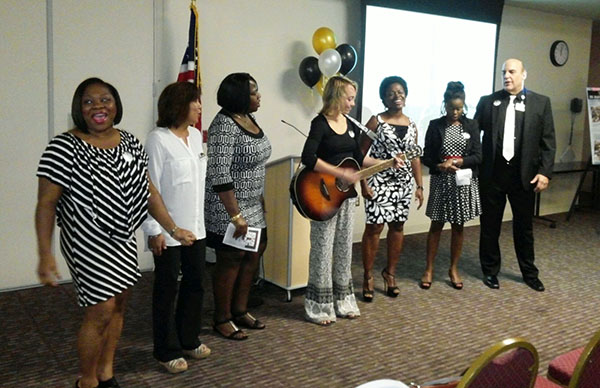 Wellington Regional Medical Center celebrated the life and legacy of Dr. Martin Luther King on Monday with songs, speeches, and a dove and balloon release.
The Rev. Lee Sapp of the Shepherd's Heart AME Church delivered an invocation and perspective, and then vocalists and instrumentalists performed.
Yvette Grant sang "Impossible Dream." Pat Morley, Karen Pennell and Enid Waugh sang "Think," originally performed by Aretha Franklin. Mina Depompa and WRMC CFO Joe Paul sang "The Prayer," and Chloe Paul played guitar as all the singers performed "If I Had A Hammer."
Paul delivered the keynote speech, giving a personal recount of how he became aware of the civil rights movement, followed by a video on the life of Dr. King produced by Sharonda Brown.
At the end of the observance, doves and balloons were released, followed by refreshments.
ABOVE: Performers sing "If I Had a Hammer."