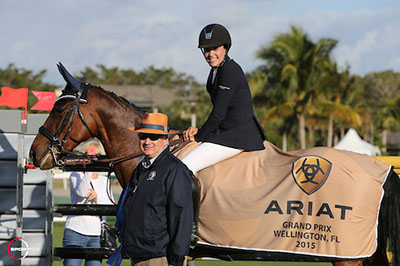 Week five of the 2015 Winter Equestrian Festival, sponsored by Ariat International, concluded on Sunday, Feb. 8 with a win for Brianne Goutal and Ballade van het Indihof in the $127,000 Ariat Grand Prix CSI 3*. After topping last Friday's $34,000 Ruby et Violette WEF Challenge Cup Round 5, Goutal and the 14-year-old Belgian Warmblood mare continued their winning form into the week's finale event, held on the beautiful grass jumping field at the Palm Beach International Equestrian Center Stadium.
Olympic course designer Robert Ellis of Great Britain set the international courses at PBIEC for week five and concluded with a great track for 45 competitors on the field on Sunday. Seven entries were clear over the first round course to advance to the jump-off, and two went double clear in the tiebreaker.
Goutal and Ballade van het Indihof, owned by Remarkable Farms LP, were the fastest double clear in 47.10 seconds. Heather Caristo-Williams and Mr. and Mrs. Ralph Caristo's Evening Star finished second in 50.78 seconds. Harrie Smolders and Copernicus Stables LLC's Don VHP Z had the fastest round of the jump-off in 46.77 seconds, but a rail at the final fence put the pair in third place.
"I am thrilled," Goutal said of her victory, crediting her mount. "This week she has been amazing, but in general she pretty much only jumps good rounds. I was very disappointed not to have her for the last two years due to a couple of injuries, and now that she is back, it is really just a pleasure every time you go in the ring. She is very strong, but she takes you right down to the big jumps. She is ultra careful, so you are never worried. She is just something else."
Goutal had to catch the clear round of Caristo-Williams and Evening Star, but knew her horse could beat their time.
"Honestly, my horse is so fast," Goutal said. "She wastes no time across the ground. She jumps very high, but somehow it is efficient at the same time. You never feel like you have really opened up. I just keep a high rhythm, a high canter and kind of let her go. She is so careful that you can kind of guide her and snake through a little bit."
Caristo-Williams explained that her horse had some time off last year and is just coming back to this level of competition, and she was thrilled with his performance.
"I was really happy with my jump-off in general," she said. "It has been a little while since I have been able to be in a jump-off with these guys, so I just wanted to do what was right for my horse. There was that pillar placed before the combination. I went inside that in the class on Friday and we had a little trouble and had the last jump down in the WEF [Challenge Cup], so I knew that I was not going to make that mistake twice. I wanted to do what was best for my horse and I know it was a slower option, but at that point going against everyone else here, I was just really happy to be efficient and go for a clear round."
However, Caristo-Williams enjoyed the class. "I love the jump-offs and I am just so happy to be able to go in there," she said.
Smolders had the time in hand with Don VHP Z, but took extra risk in his jump-off course with the knowledge that Goutal and Georgina Bloomberg were still to follow. The risk did not pay off when he had the final fence down, but Smolders was happy with his horse. He began riding Don VHP Z last year and has already developed a great partnership.
"My horse, I think, is naturally a slower mover than Brianne's and Georgina's horses, so that is why I had to take a bit more risk to put on the pressure. I think we were a bit unlucky today because I think Don is in really good shape and he deserved to go clean," he said. "I think I am starting to know him better, and our results are getting there now. He is a great horse."
The last time Smolders competed in Wellington was in 2012, and he has seen great growth in the level of competition in the last few years.
"I think the competition is very strong here," he said. "There are many good horses here. It is good sport. It is not easy. It is not easy to win anywhere, but it is definitely difficult here. There are many good riders and many good horses."
Goutal proved a great combination with Ballade van het Indihof last week, and with her success, was presented with the Leading Lady Grand Prix Rider award, presented by Martha Jolicouer in memory of Dale Lawler. She also accepted the Champion Equine Insurance Jumper Style award to conclude week five.
For more information, and a full schedule of events, visit www.equestriansport.com.
ABOVE: Brianne Goutal and Ballade van het Indihof celebrate with Equestrian Sport Productions President Michael Stone. Photo by Sportfot