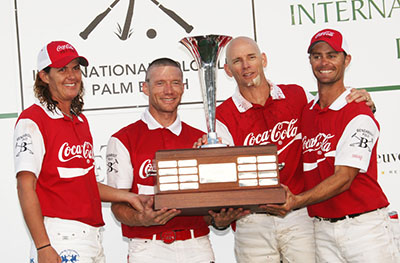 By Alex Webbe
Coca-Cola (Gillian Johnston, Sugar Erskine, Julio Arellano and Mason Wroe) managed to hold off a last-ditch rally by Valiente (Bob Jornayvaz, Robert Jornayvaz, Santi Torres and Sapo Caset) last Sunday afternoon at the International Polo Club Palm Beach to capture the 2015 Ylvisaker Cup in a high-scoring 14-13 bout.
The two teams traded goals in the opening chukker with 10-goaler Caset scoring twice from the field, while Coca-Cola got single goals from Erskine and Arellano for a 2-2 first period.
Arellano and Caset exchanged penalty goals to open the second. Arellano drove the ball through the goalposts from 60 yards out, while Caset converted a 30-yard penalty shot just a minute later, making the score 3-3. Torres scored his first goal of the game with just under two minutes in the chukker, and Caset scorched the Coca-Cola goal for a final score with 45 seconds on the clock for a 5-3 lead.
Erskine got Coca-Cola back on track in the third with a well-executed neck shot for a goal, and Arellano followed up with a shot from the corner of the field to tie it at 5-5. Caset converted another 30-yard penalty shot for Valiente, making it 6-5 at the 3:10 point. Arellano returned the favor with a 30-yard penalty shot of his own for another deadlock at 6-6. A final run at the Valiente goal had Arellano scoring with two seconds left on the clock. A highly competitive first half ended with Coca-Cola sitting on a 7-6 lead.
A Coca-Cola foul resulted in Valiente being awarded a goal on a Penalty 1. Torres gave the lead to his team a minute into the period with a shot from the field, making it 8-7. Arellano then tied it at 8-8 with another penalty goal. Erskine took the lead back for Coca-Cola with a field goal, followed by a Penalty 1, which gave Coca-Cola another goal and a 10-8 advantage. Caset converted a 60-yard penalty shot with 2:37 left in the chukker, and added a goal from the field to level the score at 10-10.
Fouls continued to haunt Valiente, giving up back-to-back penalty goals to Arellano in the first two minutes of play, making it 12-10. Torres cut the lead to a single goal, 12-11. Erskine and Torres traded goals to end the chukker with Coca-Cola on top of a 13-12 score.
The pace continued to quicken as play began in the sixth and final chukker, but defense was the byword. Both teams had runs at goal, but back handers and ride-offs kept the chukker scoreless. More than three minutes had elapsed before Robert Jornayvaz found himself on the scoring end of a pass from Caset, making it 13-13. Both teams scrambled for the ball with neither being able to forge an effective offensive drive. A costly foul sent Arellano to the penalty line in the final minutes of the chukker for a 40-yard penalty shot. The shot went wide, but seconds later, another Valiente foul sent him back to the foul line, where he scored from 30 yards out, making the score 14-13.
Valiente finally gained possession of the ball and started the drive down the field. With Valiente pressing, the Coca-Cola focus was on defense. Caset broke loose, and at a full gallop, attacked the Coca-Cola goal. A longshot was on target, but time expired with the ball falling just short of the goal line as the final horn sounded the Coca-Cola victory.
Arellano led the field with ten goals (seven on penalty conversions), and received MVP honors for his efforts. Erskine added four goals for the win. Caset scored half of his eight goals on penalty shots. Torres was credited with four goals, and Robert Jornayvaz scored once in the loss.
Dolfina Resta, owned by Adolfo Cambiaso and played by Sapo Caset, was named Best Playing Pony.
Palm Beach Illustrated Wins George Haas Cup — Earlier in the day, a youthful and determined Palm Beach Illustrated team (Tommy Collingwood, Jared Zenni, Facundo Obregon and Michel Dorignac) held off a veteran Tonkawa side (Jeff Hildebrand, Gonzalo Deltour, Inaki Laprida and Jeff Blake) to score a 12-11 win and capture the George Haas Cup, the Ylvisaker Cup subsidiary.
Obregon's seven goals (four on penalty shots) led all scoring. Collingwood scored three times, and Zenni added a goal. Palm Beach Illustrated also received one goal on a Penalty 1. Deltour scored half of his team-high six goals on penalty conversions. Laprida and Hildebrand scored single goals, and the team was the recipient of three goals on Penalty 1 calls.
The 2015 polo season continues on Sunday, March 1 with the 26-goal USPA C.V. Whitney Cup. For more info., visit www.internationalpoloclub.com.
ABOVE: Gillian Johnston, Sugar Erskine, Julio Arellano and Mason Wroe of Coca-Cola claim the Ylvisaker Cup. Photo by Alex Pacheco