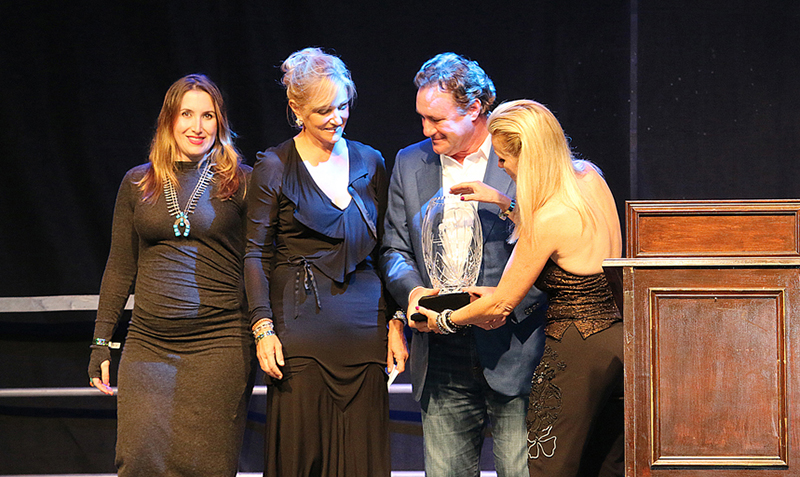 The equestrian community gathered together on Sunday, Feb. 22 for the Equestrian Aid Foundation's "A Night of Legends." It was an evening of cocktails, dinner and unique entertainment held at the Palm Beach International Equestrian Center to raise money to support horsemen and equine-related professionals suffering from illness or catastrophic injury.
White Horse Catering provided a delicious buffet with Mediterranean cuisine for VIP members, and local food trucks showcased their best offerings for purchase.
Coti Collins and Ted Brightwell brought smiles and joy to guests when they took the stage as Judy Garland, Reba McEntire and Barbra Streisand for the surprise musical performance. They opened with a magnificent spotlight on the songs of Garland by Collins that included a duet with Brightwell as Streisand. Then Brightwell dazzled during a Funny Girl blend of "I'm the Greatest Star" and "My Man."
During intermission, Equestrian Aid Foundation President Stephanie Riggio Bulger gave the 2015 Luminary Award to Equestrian Sport Productions CEO Mark Bellissimo for all his positive efforts to enhance the equestrian community.
"It is an honor to receive such a prestigious award," Bellissimo said. "The Equestrian Aid Foundation serves as a lifeline to horsemen in need, and with all the wonderful work that they do to support our community, it is humbling to be honored for my contributions."
Riggio Bulger thanked Belliissimo for his ongoing support.
"Our organization is incredibly grateful to Mark for the remarkable opportunities that he creates within the horse world, making it efficient and welcoming," Riggio Bulger said. "Shining a light on his success and how he helps with the Equestrian Aid Foundation was our way of thanking him."
Following the break, Collins and Brightwell returned to the stage for the second set, delighting the audience with some modern Streisand melodies and culminating with a Reba McEntire mix.
A live auction allowed patrons to bid on an exclusive list of packages, which included an African safari, a trip to a movie premiere, an all-inclusive yacht excursion and more. One lucky guest went home with a diamond donated by Jose Aman at Diamante Atelier as part of the diamond drop raffle.
Kimberly Van Kampen Boyer hosted the event along with co-chairs Robert Ross, Stephanie Riggio Bulger, Monique Huntington Ketiz and Missy Luczak Smith.
Guests headed to the Grille after the event for an after party with a percentage of profits benefiting the Equestrian Aid Foundation.
Learn more about the nonprofit organization at www.equestrianaidfoundation.org.