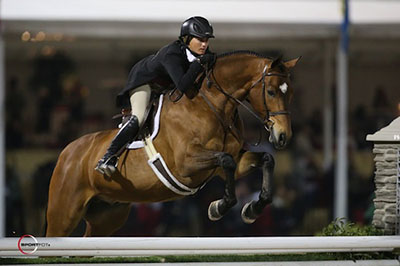 The World Championship Hunter Rider (WCHR) competition welcomed hunter riders to center stage last Saturday evening under the lights of the International Arena at the Winter Equestrian Festival.
The country's top professional, amateur and junior hunter riders jumped for top honors in the $100,000 USHJA/WCHR Peter Wetherill Hunter Spectacular, where Victoria Colvin went one-two and notched her fourth-consecutive win in the event. She piloted Ovation for Dr. Betsee Parker to his third-straight WCHR win and took second with Parker's Small Affair.
The historic hunter event returned to two rounds this year and welcomed 31 qualified entries with the top 12 returning over a handy test in round two. Scores were tallied from three panels, including judges Scott Fitton and Chance Arakelian on panel one, Mary Lisa Leffler and Scott Williamson on panel two, and Karen Healey and Jim Clapperton on panel three. First round scores were combined with handy scores for a two-round total and final score.
Colvin and Ovation first approached the course from the 26th position and jumped to the top of the leader board, returning in round two on a high score of 89.33. "I wasn't sure he was going to be able to come back and win for a third time, but he went in and went right around and was perfect," said Colvin, who has been partnered with the 15-year old Warmblood gelding throughout her near-end junior career. "The course wasn't spooky, and I was confident that it was going to go well. [Ovation] is more of an open and flowing horse, and there weren't any exact lines in the course, so it suited him."
Sitting in the eighth position after round one, Brady Mitchell and Emily Perez's Cassanto returned to post a 90 early in the handy round and take the lead. "I knew I had a lot to make up for, and I did what I could," said Mitchell, referencing an all-or-nothing approach to the final hand-gallop fence of the second round. "Andre [Dignelli] gave me some great advice to let his nose out a little, and it changed his jump in the second round. I wanted to get a good prize, and he's a trustworthy horse, so I went for it."
Representing Heritage Farm, Mitchell made a splash in his first year as a WCHR Hunter Spectacular competitor at WEF, and his lead held until Colvin returned with Small Affair. Their 88.83 combined with an 87.33 from the first round gave them the advantage by less than a single point.
When Ovation returned in the final spot, Colvin had the class won, but still had the opportunity to keep not just one, but two streaks alive. "I knew Small Affair was on top, but I went tighter and handier on Ovation — I was a little faster to the hand gallop jump, and when I landed, I was confident that he was going to be on top," she said.
Colvin's confidence proved correct when judges scored their round a 90.08, which coupled with their 89.333 from round one handed them the win and bumped Small Affair to second.
Brady and Cassanto settled for third, but he was elated with the event as a whole. "I have been riding hunters for a long time, and this is the class that every hunter rider wants to ride in and do well in. It feels special to be here under the lights where hunters have the opportunity to take over Saturday night," he said. "I'm ecstatic to be third. Tori rode beautifully, and I'm happy to be third behind her. We kept it in the family tonight — Heritage Farm had a good night tonight being one-two-three."
Tara Metzner and Come Monday, owned by Davlyn Farms capped the top four with scores of 85.66 and 89.16. In her third year participating in the WCHR Hunter Spectacular, Metzner made a significant improvement over last year's 11th-place finish.
"She's a brave, awesome horse so I knew there was nothing she was going to look at — she's great in these conditions where things are more impressive, and I knew if I found the jumps she would give me all she's got," Metzner said.
For Colvin, her third consecutive win with Ovation was bittersweet knowing it would be their last together. Parker announced at the close of the Hunter Spectacular that the cherished gelding will retire at the Washington International Horse Show this fall.
"He is the most decorated junior hunter in history, and it's moving to see this magnificent horse go out winning," Colvin said.
Colvin admits that saying goodbye to Ovation is difficult, but couldn't imagine a junior career with a better horse. "I knew this year that it would be our last season together, and it's very emotional because he's such an amazing horse," she said.
For more information, and a full schedule of events, visit www.equestriansport.com.
ABOVE: Victoria Colvin and Ovation ride at the Hunter Spectacular. Photo by Sportfot