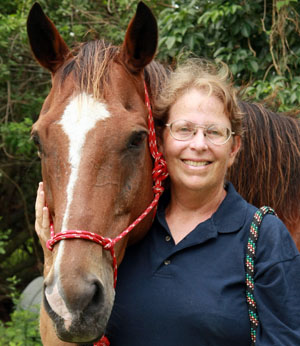 TALES FROM THE TRAILS
The ninth annual George H. Morris Horsemastership Training Session, presented by the United States Hunter Jumper Association, was conducted at the Palm Beach International Equestrian Center from Dec. 29 through Jan. 3.
The prestigious clinic was created by George Morris, John and Beezie Madden and Connie Sawyer. Its main aim is to elevate riding and horsemanship through education. Each day covered a different topic. The group of 12 was split, half riding at a time while the others watched and filled in as jump crew.
Twelve young riders participated in the five-day clinic: Wilton Porter, NAJYRC- 2014 USHJA North American Young Rider Individual Show Jumping Champion; Lucas Porter, NAJYRC- 2014 USHJA North American Junior Individual Show Jumping Champion; Geoffrey Hesslink, 2014 Platinum Performance/USEF Show Jumping Talent Search Finals-East Champion; Sydney Hutchins, 2014 Platinum Performance/USEF Show Jumping Talent Search Finals-West Champion; Carly Williams, 2014 USHJA Emerging Athlete Program presented by Dover Saddlery winner; Cody Wooten, 2014 USHJA Emerging Athlete Program presented by Dover Saddlery finalist; and six wild-card selections: Bowers Cone, Mitch Endicott, Jennifer Gates, Sophie Simpson, Spencer Smith and Hannah Von Heidegger.
These extremely lucky young riders had a week filled with information from one of the best in the industry. The current chef d'equipe for the United States Equestrian Federation show jumping team, Morris has ridden in many Olympics and coached other riders on to equally prestigious honors.
Morris is a member of the USEF National Jumper Committee and Planning Committee and president of the U.S. Show Jumping Hall of Fame. While there was no fee to participate, the riders were responsible for all of their expenses for the week. Some used their own horses, while others found horses through their trainers and borrowed them for the week.
"I enjoy this week very much each year," Morris said. "When I teach young riders, I don't always have students and horses of such a high class. These are all on an elite level."
As ever, the sessions took place in Ring 9 at the far end of the show grounds. Covered seats were set up for the 200 or so auditors along two sides of the ring. Morris did not allow any talking in the stands, and called out even people who whispered to companions.
"I've been coming to his clinics since the early 1970s," said one auditor. "George has the same enthusiasm, the same passion and drive for knowledge. He has always been very consistent, teaching the classical principles of riding. His terminology doesn't change at all. He's got great instincts."
The day I sat in, the second group was mounted and jumping.
"Your position is very important," Morris told them. "It affects function. You don't ride a certain way because it's pretty, but because it works. I've ridden forever and tried every position. You have to stretch your spine, carry your hands, keep a straight line from your elbow to the horse's mouth, wrists straight, thumbs up."
The riders trotted and cantered around, listening to corrections, riding on the flat and over fences, completing a series of exercises while Morris watched and commented, stressing impulsion and rhythm.
"Patience, softness, repetition. Give a little, take a little on the reins," he said. "Your hands should always be intermittent, taking and giving to balance the horse. Eventually you get so good that you think it and the horse does it."
They worked on flying changes, staying straight on canter departures, and trotting over fences, which Morris described as very good for both horse and rider.
"This keeps you and your horse from getting too quick. Don't neglect trotting fences."
Then there were higher fences, at the canter and gallop. The riders all shortened their stirrups.
"Forward. Always go forward, think forward into the halt," Morris reminded them. "Keep the pace forward, and hold your position up off his back in a half seat riding to a fence. Make it easier for the horse to gallop."
Finally, he couldn't stand it anymore. He called one rider over, had him dismount, then hopped up into the saddle to do some jumping. Yes, some of it was to demonstrate, but part of it was just George Morris being George Morris. He might be 76 years old, but he had to ride.
And we were thrilled to watch.
To watch video of the sessions courtesy of the USEF Network, visit www.usefnetwork.com/featured/2015GMHTS.