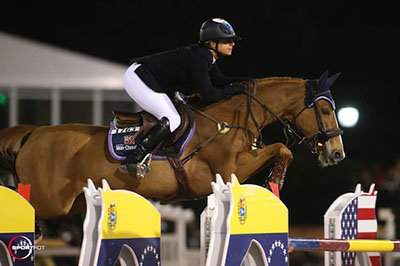 France's Marie Hecart and Myself de Breve were the winners at last Saturday night's $372,000 FEI World Cup Grand Prix CSI-W 5*, presented by Fidelity Investments, at the 2015 Winter Equestrian Festival.
Earning her first five-star victory and her first major Saturday night win in Wellington, Hecart topped a roster of major competition, including Olympic gold medalists Ben Maher of Great Britain and Eric Lamaze of Canada. Maher was second with Diva II, while Lamaze finished third aboard Fine Lady 5.
Held under the lights at the Palm Beach International Equestrian Center's International Arena, the class featured 45 starters with 10 clear rounds over the course set by Guilherme Jorge of Brazil. In the jump-off, only two were able to clear the short course without fault.
Sixth to go in the second round, Hecart and Myself de Breve produced the first double clear in the winning time of 38.61 seconds. Kent Farrington and Amalaya Investments' Willow immediately followed with a faster time of 36.79 seconds, but had a defeating rail at the last fence to finish fourth. Maher and Tatiana Korsakova's Diva II came one round later to produce the second clear in a time of 40.55 seconds. Last to go, Lamaze and Artisan Farms LLC's Fine Lady 5 completed the fastest round of the night in 36.54 seconds, but dropped one rail to finish third.
Myself de Breve is a 15-year-old Selle Francais mare. One of the smallest horses in the class at just over 15 hands, what "Myself" (or "Mini Me" in the barn) lacks in height, she makes up for in heart. Hecart has had the mare since she was four years old and has developed a great partnership over the years.
"We know each other really, really well and she has been more and more consistent," Hecart said. "The older she gets, the better she gets, and it is really nice to have her in good shape and competitive."
After many times of being close, Hecart was thrilled with the big win.
"We were always clear and really consistent, but there was always one down in the jump-off or we were not fast enough," she said. "Today, I don't know why, but it happened and she was amazing. It is always a really nice atmosphere and a good crowd here on Saturday, so it is always really exciting to ride here."
Hecart was proud of her jump-off round.
"I cannot go over my speed because she can get really excited and have a rail down," she said. "I wasn't fast in the beginning, and I just took a chance at the last jump. I wasn't really that fast, so it was good that Eric had a rail."
With his second-place finish, Maher was happy with a great result aboard his mount Diva II and was pleased to see the mare in good form for the night's class after a good end to the 2014 season.
"She's fantastic. She has a little bit her own style," Maher said. "She was great in Olympia in London; she won there. I jumped her last week when she came out of quarantine and she was really fresh and crazy, but tonight she was back to herself."
Maher noted that the first round was a fairly long course and difficult course.
"Some of the horses coming back in the jump-off were not necessarily tired, but they didn't jump quite as well," he said. "It was big money, a lot of people making mistakes. I decided to play it a bit safe and take a check home."
Lamaze has been on excellent form with numerous wins in the beginning of the WEF circuit, including wins in all four rounds of the Ruby et Violette WEF Challenge Cup Series. The last two wins were back-to-back with Fine Lady 5.
"She felt the same," Lamaze said of Fine Lady's performance Saturday. "I rode her last Saturday night, and I was pleasantly surprised. She had no reaction and was the same under the lights. With the atmosphere, she jumped an incredible first round. Marie was very fast in the jump-off, so she didn't leave much on the table, and we had to try. For my horse, going last in the first round and then into the jump-off right away, there wasn't a lot of recovery time. She barely touched that fence. She's a great mare and I'm very happy to be riding her in these 1.60m grand prix, because she wasn't really bought to do this. For me, it is exciting to have another horse to do it."
With all of his latest wins, Lamaze was not disappointed with a third place finish.
"Not when you're third to Marie and Ben," he said. "It's great competition. When you go at this speed, you need a little luck, and that's the way it goes sometimes. My horse jumped very well, and there is no shame in being third on this circuit."
The Winter Equestrian Festival has some of the toughest competition in the world, with many of the top horses and riders competing.
"We used to be in Florida to prepare our horses to go compete in Europe or somewhere else in the U.S., but now with the five-stars and the increase in prize money, it becomes a serious competition. It is a serious circuit," Lamaze said. "I think a lot of riders are preparing their horses to be here and not train them, but really compete. That is the difference. Florida used to be a training circuit for the rest of the year, but now it is a real competition; a real show with real riders and great horses."
For more information, and a full schedule of events, visit www.equestriansport.com.
ABOVE: Marie Hecart and Myself de Breve jump last Saturday night. Photo by Sportfot