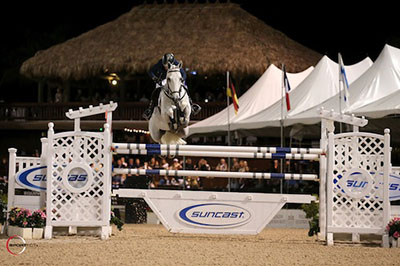 Germany's Meredith Michaels-Beerbaum and Fibonacci 17 were the winners in last Saturday night's $372,000 Suncast CSI 5* Grand Prix in week seven of the 2015 Winter Equestrian Festival.
Jumping under the lights of the International Arena at the Palm Beach International Equestrian Center, Michaels-Beerbaum and the 10-year-old Swedish Warmblood gelding won a six-horse jump-off, with Israel's Danielle Goldstein and Carisma in second, and U.S. rider Jessica Springsteen with Vindicat W third.
Forty-four entries showed over Steve Stephens' course Saturday night with six advancing to the jump-off and only two double clear rounds.
First to go in the jump-off were Emanuel Andrade and Hard Rock Z. Going for the slower clear round, they finished in 41.84 seconds, but had an unfortunate four faults for sixth place. Goldstein and Israeli Equestrian Partners' Carisma were the first pair to clear the short course in 37.86 seconds and eventually took second place honors. Michaels-Beerbaum went next with Fibonacci 17 and completed the only other double clear round in a faster time of 36.96 seconds, but had to wait three more rounds to settle the victory.
Georgina Bloomberg and Gotham Enterprizes LLC's Lilli took down the final fence to place fifth with four faults in 37.27 seconds. Springsteen and Stone Hill Farm's Vindicat W followed, and although they completed the fastest round of the night in 35.40 seconds, the pair finished third with one rail down. Last to go, Beezie Madden and Abigail Wexner's Cortes C were poised to win with their time of 35.65 seconds, but the pair also had a late rail at the final fence to place fourth.
A three-time FEI World Cup Finals champion and one of the best female riders in the world, Michaels-Beerbaum has had many wins at the Winter Equestrian Festival through the years, but Saturday night marked one of her biggest. She has had great results with Fibonacci 17 all circuit and was thrilled to get a major victory with the talented gelding.
"He has been jumping brilliantly since he got here to Florida, but I have had the unlucky rail down in the two grand prixs that I have ridden him in," Michaels-Beerbaum said. "I knew he was in great form, but he is a new horse for me. I have had him less than a year. At this time last year, he was jumping 1.40m classes, so he has made a big step up into the big league. I was fine-tuning some small details with him and changed the bridle a little bit for tonight and that seemed to be perfection."
Fibonacci has quickly risen to stardom for his incredible jumping ability, and he showed that off under the lights with some impressive jumps.
"He is actually a Swedish-bred horse, although he has a German father and a Dutch mother," Michaels-Beerbaum added. "He was born in Sweden, so the Swedish take great pride in that fact. I got him in May last year. He has a different style than most horses. He jumps with his head up and a little bit straight in his back. That is something I have decided I cannot change and that is why I was trying to finesse the bridle a little so I could help him without interrupting his jump."
Michaels-Beerbaum was at the in-gate watching as the final round of Beezie Madden and Cortes C solidified her victory. "I have to say, I expected Beezie to beat me, particularly with Cortes," she said. "He is her best horse, and I was really surprised when he hit the last fence. Sometimes the luck goes your way, and it was with me tonight."
She was also happy to get a win for Fibonacci's owners, Jim and Kristy Clark at Artemis Equestrian Farm LLC. "They are absolutely delighted because they supported me," Michaels-Beerbaum said. "We had a discussion last year at this time and they said, 'Listen, we'll support you and go find some good horses.' Fibonacci was the first horse we purchased and to have him win here tonight is just phenomenal."
Goldstein was also very happy with her second place finish in the class aboard Carisma, a 16-year-old Swedish Warmblood mare. Saturday night gave Goldstein the biggest finish of her career and a memorable moment in her partnership with the mare.
"I have been watching a lot of video of Meredith recently," Goldstein said. "To be second was amazing. The horse really felt spectacular today. I have been working on going a bit faster, so to be able to be second was amazing."
Although one rail came down for Jessica Springsteen in the jump-off, she was happy with a great night with Vindicat W.
"I was a little worried," Springsteen said. "The last two grand prixs, we struggled a bit. He had a bit of time off, and I feel like he is starting to get back into the groove of things, so I was really happy."
For more information, and a full schedule of events, visit www.equestriansport.com.
ABOVE: Meredith Michaels-Beerbaum aboard Fibonacci 17. Photo by Sportfot