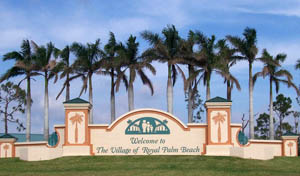 The Royal Palm Beach Village Council approved the sale of the 154-acre former wastewater treatment plant property to the Lennar Corporation for $35 million on Thursday, Feb. 5.
Village Manager Ray Liggins said Lennar was the highest of three qualified bidders.
The site is at the north end of Crestwood Blvd., near H.L. Johnson Elementary School and bordering the Saratoga Pines and Madison Green communities. The current zoning, approved in October, provides for generally lower residential density than the surrounding communities.
Resident Diane Queller, who lives across the M Canal from the property, has been heavily involved with the site's future, including opposition to an early plan for commercial development of the property. She enthusiastically supported this sale, which will be for residential development.
"This has been dear to my heart," Queller said. "It's like seeing my first child being born. This is going to do nothing but improve the community."
She thanked the council, staff and residents who got involved in the sale for seeing it to a good ending. "It came to be, and you all do listen to the residents," Queller said.
Vice Mayor David Swift credited Liggins with leading the way to the completion of the sale.
"I think Ray's vision for getting this done kept us on the right path," Swift said, thanking Liggins for keeping the process at the staff level until it came to council approval. "You really did a great job on this one."
Councilman Fred Pinto also praised Liggins for leading the project. "This is certainly in the ballpark I had in mind," Pinto said. "I knew we would be moving into a market for more robust development."
Councilman Jeff Hmara said that village staff had put together a creative approach in preparing for the sale that put the council in a position to make a clear decision. "That was due to a well-executed approach by staff," Hmara said.
Liggins said his staff members had worked with many agencies, including professionals experienced in planning for land sales.
"There is nothing that gets done here without a lot of people," he said. "When we put this out, we got proposals from people who do it. There was a lot more consistency. That's what made it better for people in the market."
Pinto made a motion to approve the sale, which carried 5-0.