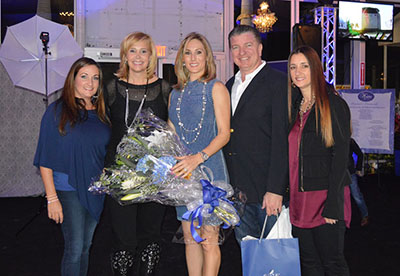 The King's Academy held its annual underwriting party Saturday, Jan. 17 to support the 2015 Mane Event Dinner & Auction "Denim & Diamonds." The spectacular evening, generously hosted by Joe & Ashley Maguire, was held during the Winter Equestrian Festival at the Palm Beach International Equestrian Center.
Guests enjoyed watching live equestrian events from the private gallery while being treated to a delicious dinner. In addition to being great fun, the event was a huge success, bringing in an impressive record year of sponsorships with more than $150,000 raised to benefit the school and underwrite the auction.
TKA is grateful for its loyal supporters and volunteers and is looking forward to another successful "Mane Event" on Saturday, Feb. 28. The event will include dinner, a live and silent auction, and entertainment.
The event is being co-chaired by Michelle Collier, Lisa Gerardi and Dana Wilkerson, and the silent auction is led by Ellen Hobbs. Presenting sponsors include Insurance Office of America, Regal Paint Centers, Revan Racing Inc., Equity Trust Company, Joe & Ashley Maguire, Chuck & Ellen Hobbs, and Chuck and Diane Hanlon.
Mane Event tickets are $125. For more information, call TKA's Development Office at (561) 686-4244.
The King's Academy is a nationally recognized private Christian school serving approximately 1,200 students from preschool through 12th grade. More information about TKA is available online at www.tka.net.
ABOVE: Auction co-chairs Dana Wilkerson and Lisa Gerardi, hosts Ashley and Joe Maguire and auction co-chair Michelle Collier.