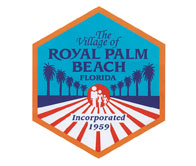 The Royal Palm Beach Village Council last week authorized appraisals of about 10 acres of village-owned land across Okeechobee Blvd. from Royal Palm Beach High School for what could become a future charter high school.
At the Thursday, Feb. 5 meeting, Village Manager Ray Liggins said Flagler Realty had asked to purchase land on Okeechobee Blvd. east of the First Baptist Church. He said that there are two parcels owned by the village, near where the village entrance sign sits. The village would keep 2 acres for the sign, and the potential buyer has offered to pay for the necessary appraisals.
"This would authorize me to get the appraisals and bring them back to the council for consideration at a later meeting," Liggins said, pointing out that the public high school is currently at 102 percent capacity, and about 1,000 students living in the village take advantage of the choice program, although village staff believes that putting a charter high school across the street from the public high school is inappropriate.
Vice Mayor David Swift said that this is just the first step and noted that Flagler Realty will pay for the appraisals.
Village Attorney Jennifer Ashton said the Realtor was asking whether the council is interested in selling the property.
Mayor Matty Mattioli said he would not want to sell the land for a charter school because it would undercut the progress that Royal Palm Beach High School has been making.
Swift, however, disagreed.
"I have a different view," he said. "I talked to elementary and middle school teachers, and they are concerned about the proliferation of private and charter schools."
However, with RPBHS at 102 percent capacity and 1,000 students in the village choosing to attend high schools outside the area, Swift said he thought a charter school is worth looking into.
"I don't think it's going to have an effect on Royal Palm Beach High School," Swift said. "It gives parents a choice within the village. [Public school] teachers don't like charter schools, but I think this is a proposal that we should pursue."
Patrick Koenig of Flagler Realty said the developer, Renaissance Charter School, which operates under Charter Schools USA, is A rated and has 65 schools operating now, including an elementary/middle school in Royal Palm Beach.
Dale Faircloth, pastor of the neighboring First Baptist Church, said he had talked with Koenig about the use of the property and sharing facilities such as parking.
"We would still have plenty of room to build a 1,000-seat auditorium," Faircloth said. "For our church family, we're saying we're in support."
Resident David Nichols said the school would not be built for several years and asked that the council not reject the idea outright.
Several other residents said they would like to have an alternative to the public high school.
Monica Nichols said she loves raising her children in the village and does not want to send them to a school outside the village.
Kathy Southwart pointed out that Wellington students have three high school choices, while Royal Palm Beach has only one.
Councilman Jeff Hmara, liaison to the Education Advisory Board, said he would need more information in order to make a decision.
"I understand the interest in adding to the mix of schools to give a greater choice," Hmara said. "I would like to do all I can to see that all our schools are high-performing. It is fair to say that Royal Palm Beach High School has made improvements. This is a difficult issue and something all of us take seriously. I only have a slight amount of pause; I want to know what this school is."
Hmara suggested that the operator be invited to make a presentation, and that staff also get the school district involved.
Councilman Fred Pinto agreed.
"I understand and appreciate that there is a concern," Pinto said. "Parents want the best alternatives. We need to step back and make sure we understand all the moving parts. The high school is over capacity, and students are going somewhere else."
Pinto said he would like to get the Education Advisory Board involved in the process, possibly to hear a presentation from the charter school operator, adding that he is concerned about parents not having a high level of confidence in the high school, although he believes Principal Jesus Armas has made tremendous headway.
"We're not educators up here," he said. "I would like to see the [Education Advisory Board] work through the question. We should not make a definitive decision tonight."
Councilman Richard Valuntas said he was interested in hearing more about the charter school, although he felt biased toward public schools because he went through them. He said one of his sons attends Western Academy, which recently started a Science, Technology, Engineering, Arts & Math program, which is in line with his interests, although his other children will attend Crestwood Middle School.
"I have no idea what a charter high school would offer," he said. "I prefer Royal Palm Beach High School because that's what I did. We have a significant piece of land tied to a public purpose. I can't think of a better public purpose than giving parents a choice. This is a piece of property that the village is not going to have much of a use for."
Swift said he would prefer to move ahead with the appraisals and get more input from the operator during the process.
Pinto made a motion to move ahead with the appraisals and refer the charter school question to the Education Advisory Board, which carried 5-0.