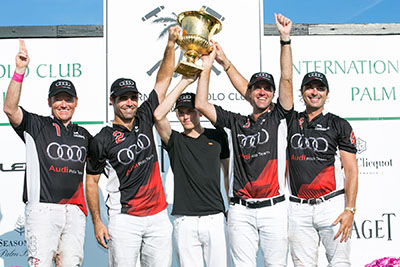 The final match of the USPA Piaget Gold Cup kept the sold-out crowd of spectators on the edge of their seats on Sunday, March 22 at the International Polo Club Palm Beach.
Orchard Hill had just come off a sensational C.V. Whitney Cup victory and was predicted to dominate the match, but Audi proved to be no pushover.
Audi started strong, scoring two goals in the first few minutes, and kept the pressure on with an 8-6 lead at halftime.
At the end of regulation time, the score was 15-15, and the match went into overtime. An Orchard Hill foul gave Audi a penalty shot, and Gonzalito Pieres scored the winning goal, giving the prestigious cup victory to the Audi team of Marc Ganzi, Rodrigo Andrade, Grant Ganzi, Gonzalito Pieres and Freddie Mannix.
Heather Kobus proved to be a fashion standout in spring 2015's hottest new style trend as Veuve Clicquot Fashion on the Field Winner. The Lucy Paris strapless cotton romper was a cool choice in large florals of pink, orange and purple on a crisp, white background. Nude wedges, perfect for divot stomping, completed her look, along with a few silver and gold bangle bracelets with semiprecious stones.
The 16-week winter polo season will culminate with the U.S. Open Polo Championship being played on consecutive Sundays through April 19. Be sure and get your polo fix before the season ends. Join in the festivities and high-goal competition by purchasing tickets at www.internationalpoloclub.com.
ABOVE: Marc Ganzi, Rodrigo Andrade, Grant Ganzi, Gonzalito Pieres and Freddie Mannix claim the Piaget USPA Gold Cup. PHOTOGRAPHY BY LILA PHOTO