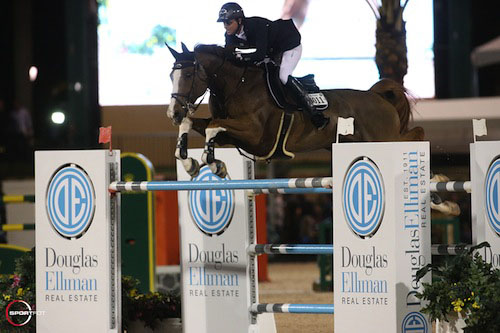 Great Britain's Ben Maher and Diva II jumped to victory in the $372,000 FEI World Cup Grand Prix CSI-W 5*, presented by Douglas Elliman Real Estate, last Saturday night at the 2015 Winter Equestrian Festival. The pair topped a three-horse jump-off with Meredith Michaels-Beerbaum of Germany and Fibonacci 17 in second, and American Laura Kraut with Cedric in third.
Alan Wade's course under the lights tested all of the horses and riders, and only those three, out of the 41 starters, were able to advance to the jump-off. It took 17 rounds before Michaels-Beerbaum and Artemis Equestrian Farm LLC's Fibonacci 17 were the first pair to jump clear in round one. Another 17 rounds, and Kraut and Cherry Knoll Farm Inc.'s Cedric jumped the second clear to make a jump-off. Second to last, Maher and Tatiana Korsakova's Diva II put in the third clear trip.
Michaels-Beerbaum and Fibonacci 17 were first to return, jumping clear over the short course in 46.31 seconds. Kraut and Cedric had one rail down in a slower time of 46.76 seconds. Maher and Diva II were last to go, clearing the course in 46.03 seconds for the win.
Maher started riding Diva II, a 10-year-old Anglo European mare, last year and finished out the 2014 Winter Equestrian Festival with a 1.50m win in week 11 of the circuit. Diva has developed throughout the year and came back even better in 2015, stepping up to the bigger classes and proving her talent in last Saturday's challenging World Cup qualifying event.
Despite jumping at the end of the class and returning for the second round after only a brief break, the mare put in the extra effort.
"It was a pretty quick turnaround for me. I was second from the end, so Diva did not have much time to recover, which I really felt in the warm-up especially before the jump-off," Maher said. "That jump-off probably was not my best ever round. Diva is hairy in the way she goes. She is not so conventional always, but I did not have a lot to lose. A couple weeks ago I played it safe. Tonight I knew I would be top three, so I figured that I would have a go and with a little bit of luck here and there, it paid off."
With the best win of Diva's career, Maher noted that the mare also won a class in Olympia with Alan Wade building.
"He is a great course builder," Maher said. "When I walked, I thought it was quite a smooth course, but they were big jumps. I was right at the end to go, and there were fences falling everywhere. There was not anything in particular that was the main cause of the problems. It is big money, so you expect a big course."
After winning the $372,000 Suncast CSI 5* Grand Prix two weeks ago, Michaels-Beerbaum was thrilled with another top finish for her talented mount, Fibonacci 17. The 10-year-old Swedish Warmblood gelding has become a worldwide star since pairing up with the German rider, and once again showed off his impressive jumping under the lights.
"He felt great. He jumped the first round beautifully," Michaels-Beerbaum said. "In the jump-off, I had a couple of things go wrong. I lost my stirrup after [jump] number two, which made me nervous because he jumps so high that I would not like to jump a fence without a stirrup. I made sure I got my stirrup back before the next fence, which takes a little time, and then I had a slight slip going back to the oxer in front of the VIP, which he handled beautifully. These two little things cost you a couple tenths of a second."
Michaels-Beerbaum also weighed in on the night's course, agreeing that the degree of difficulty was appropriate for an important class.
"I think that it was a great course, because you saw faults everywhere, which really shows the mastership of a great course designer, instead of having one thing that horses can't jump," she said. "There were very wide oxers and tall verticals tonight everywhere. I thought it was brilliant, and I think at this level, it is a championship level, and it is good when it is tough."
For Kraut, this top three finish with Cedric was emotional, as every moment with the 17-year-old gelding is cherished. A pint-sized Holsteiner, Cedric gave it his all Saturday night and will now have a well-deserved break.
"Every time that horse puts in a performance like he did tonight it makes me want to cry," Kraut acknowledged. "It is so emotional. He has such a big heart and tonight it was very, very difficult. I promised him earlier that if he was good tonight I would not make him do any more on this circuit and he could have a little break. He must have heard me. I want to thank Margaret Duprey for making it possible for me to have this horse until he is 17 and on. It is a blessing every time."
Kraut was also presented the Leading Lady Rider award for week nine, presented by Martha Jolicoeur of Illustrated Properties in memory of Dale Lawler.
Wrapping up a fantastic night of show jumping, Don Langdon, a Palm Beach broker for Douglas Elliman Real Estate, expressed his company's appreciation. "I think if I was going to do a parlay, I would have picked Ben Maher to win early. It was breathtaking," Langdon said. "For the spectators, we were all holding our breath. I think that showed, and the riders rose to the challenge, which is great. Our company is so proud to be a part of what you are all doing."
For more information, and a full schedule of events, visit www.equestriansport.com.
ABOVE: Ben Maher aboard Diva II. Photo by Sportfot