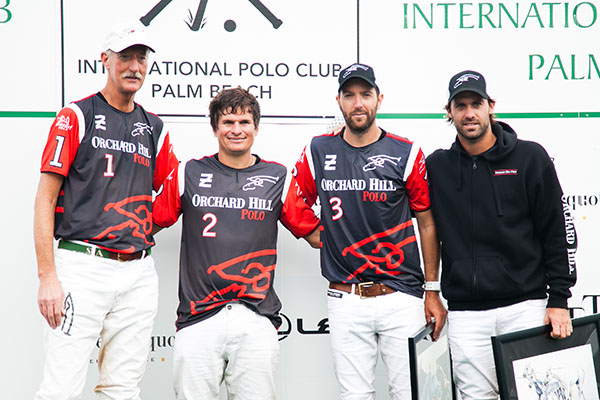 The opening weekend of the 26-goal USPA Piaget Gold Cup at the International Polo Club Palm Beach brought out plenty of spectators as Wellington's polo season kicked into high gear.
Last Sunday's featured match between Orchard Hill and Valiente possessed all the drama, determination and excitement that polo fans have come to expect at an international high-goal tournament.
The two teams were tied 6-6 at the end of the first half. Orchard Hill power players Facundo Pieres and Polito Pieres scored an extraordinary six goals in the fourth chukker, making it 12-6. Valiente roared back in the fifth, scoring four goals to tighten the gap to 12-10.
A field goal and a penalty point by each team in the sixth chukker brought the final score to 14-12, with Orchard Hill taking the win.
Ezequiel Ferrario was named Most Valuable Player, and the Best Playing Pony award went to Jackie, a masterful Thoroughbred that carried Polito Pieres to his goals in the fourth chukker.
Selecting a fashion standout among Sunday's style setters is always a daunting task. However, Rachel Smith won over the Veuve Clicquot Fashion on the Field judges with her cool, fitted, bright orange shell that was perfectly matched with a vibrant orange and blue skater skirt, and offset with chic, blue suede heels and a matching purse.
Sponsor Veuve Clicquot presented its light and refreshing pink champagne to spirit-loving sophisticates, with chic tastings during Sunday's champagne brunch. The halftime divot stomp included generous pours of the elegant bubbly. Glasses filled with sparkling rosé glistened in the afternoon sunshine, while polo fans and guests sipped the elegant libation and strolled back to their seats for the second half of the fiercely contested match.
The 2015 USPA Piaget Gold Cup continues this weekend at IPC. For more information, visit www.internationalpoloclub.com.
ABOVE: Orchard Hill's Steve Van Andel, Ezequiel Ferrario, Polito Pieres and Facundo Pieres during the award ceremony.
PHOTOGRAPHY BY LILA PHOTO