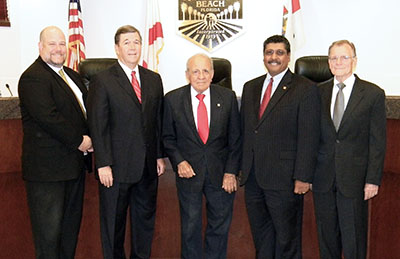 While a full discussion and decision is not expected until next month, the Royal Palm Beach Village Council last week briefly discussed the status of a proposal to build a charter high school on 10 acres of village-owned land right across the street from Royal Palm Beach High School.
At the March 19 meeting, Councilman Jeff Hmara reported on the recent Education Advisory Board presentations and following workshop where board members heard from representatives of a charter school company that would like to purchase property from the village.
The board also heard from Palm Beach County School District representatives and RPBHS Principal Jesus Armas, who were not fond of the idea of a charter high school so close to a public high school.
A full report from the advisory board is scheduled to be presented to the council on April 16, and Hmara said it is still important to hear opinions from the public. He added that he thought the discussion had drawn attention from the school district, which recently announced that it would be creating an International Baccalaureate program at RPBHS that it had turned down earlier, as well as a junior ROTC program, and fulfilling an earlier commitment to power-wash and paint the school, which has been needed for several years.
Councilman David Swift said he attended both of the advisory board meetings and noted that school district and charter school representatives spoke, but that residents did not provide much input. Swift said he would like to have some sort of survey to allow residents more opportunity to weigh in on the question.
"It appeared that there was a lack of interest on the residents' parts, and the question I have, is that really true?" Swift said. "Just because they didn't show up doesn't mean they weren't interested."
Swift said the advisory board meetings might not have offered the average person a sufficient avenue for input.
"I would like to hear a simple yes or no question. It would be something like, 'Should the Village of Royal Palm Beach consider selling a piece of public land located on Okeechobee Blvd. to a charter high school? Yes or no," he said. "I would like to know what the residents think. No people showing up tells me we're doing something wrong."
Village Manager Ray Liggins said they could put a survey on the web site.
"We did it for a couple of other things," Liggins said. "We could put a survey like that together."
Hmara said he would support any activity that would give the council a more complete, balanced picture.
Mayor Matty Mattioli said he thought the Education Advisory Board had done a good job gathering information and that it would be a waste of time and money to do a survey.
"We've sold land in this village many, many times without asking anybody but this council," Mattioli said.
Councilman Fred Pinto said that the council should follow the recommendation of the Education Advisory Board not to have a charter high school at that location.
"All of the other underlying reasons are really immaterial in light of the fact that that was their final recommendation," Pinto said.
Vice Mayor Richard Valuntas said he would not object to a survey, although he recalled that several families favoring the charter school had spoken at the council meeting where the sale of the village land to the charter school had been discussed initially.
Valuntas pointed out that an appraisal was due back, and the point may be moot if the figure was not agreeable to both parties.
Liggins agreed, saying the item might be dropped if the charter school representatives did not want to pay the price.
Liggins told the Town-Crier on Wednesday that the average of two appraisals was $3 million, but he had not heard back from the real estate company that was brokering the deal, and would not post a survey until he knew the charter school company was still interested.
In other business:
• During swearing-in ceremonies, incumbents David Swift and Fred Pinto returned to their seats after they were sworn in by Village Clerk Diane DiSanto for new two-year terms. Pinto was unchallenged, and Swift defeated former Councilwoman Martha Webster and former Planning & Zoning Commissioner Darrell Lange in a three-way race earlier this month.
• During the council's reorganization meeting, Hmara was chosen to return to his position as liaison to the Education Advisory Board. Pinto was tapped as liaison to the Planning & Zoning Commission, replacing Swift. Valuntas will return as liaison to the Recreation Advisory Board. Hmara was chosen to return as liaison to the Central Palm Beach Chamber of Commerce, as well as to serve as the primary delegate to the Palm Beach County League of Cities.
• The council approved a special exception for a 2,137-square-foot Taco Bell restaurant with a drive-through to be located in the old Checkers restaurant building on a .9-acre outparcel in the Crossroads Shopping Center at 1318 Royal Palm Beach Blvd. Village staff and the Planning & Zoning Commission both recommended approval of the application. Valuntas made a motion to approve the application, which carried 5-0.
• The council also gave preliminary plat approval for the 35.9-acre Cypress Key mixed-use development at the northwest corner of Southern Blvd. and Cypress Head Avenue. The plan calls for 23 single-family lots and 124 townhouses, as well as several open-space lots and commercial tracts. Valuntas made a motion to approve the application, which carried unanimously.
• The council also gave preliminary plat approval for the Royal Office Park planned commercial development on a 12.7-acre site on the east side of State Road 7 about 0.8 miles south of Southern Blvd.