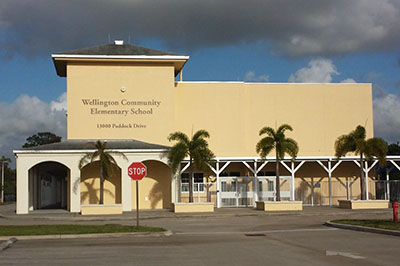 There have been more sick children than normal at Wellington Elementary School over the last week and a half, and the Palm Beach County School District has urged parents to be extra vigilant in keeping sick children at home.
A letter from the Palm Beach County Health Department was sent home to parents last week to increase awareness of the situation, advising them to keep sick children home and to encourage the frequent washing of hands to help eliminate the spread of the illness.
As the phones were ringing furiously at the school, the Town-Crier spoke to Tim O'Connor, spokesman for the Palm Beach County Health Department, also known as the Florida Department of Health Palm Beach County.
"We have been in contact with the parents and the members of the school since last Friday," he said. "The first letter went out… acknowledging that there were a higher-than-normal incidences of vomiting and diarrhea among some of the students who reported sick and were staying home. And then, of course, our advice at that time, was… to keep your child home if they are sick."
O'Connor noted that there is no clear indication what exact ailment is causing the spike in illnesses at Wellington Elementary School. "We still do not know what it is, if anything," he said.
The health department, O'Connor explained, notified the environmental group within the school district that goes in and cleans classrooms, offices, the cafeteria and the rest of the school. "It's potentially viral in nature, which makes it a little more contagious, and it seems to be passing along," he said. "At this point, that's where we are. Again, no confirmations."
On Wednesday afternoon, O'Connor said another letter was being drafted, in addition to the first letter on March 5, to be sent home to parents.
"Just the same basic advice," he said. "Keep your child home if they are sick, and again probably beyond that, up to 48 hours after symptoms subside, don't send your child back to school. Or, if you're a teacher or staff member, don't come back too early. Make sure everything is over."
Though the timing is relatively close to when Wellington Elementary School students were told to drink from water bottles due to some pipe issues, O'Connor does not believe the two situations are related.
"It's very unlikely it's a water issue," he said. "It's viral in nature, probably related more to things you see on cruise ships — the norovirus — because it seems to be easily passed and symptomatic. People become symptomatic very quickly."
O'Connor stressed the need for vigilance. "We don't know what virus it is or isn't. It's just that you have to take all of the necessary precautions in preventing it," he said.
More than 50 people have been affected by the illness, including students and staff members, but the exact count is unknown at the moment, O'Connor said, noting that some of it has been self-reported and the numbers seem to be changing daily. "If they're well, they should be going to school," he said.
The health department has asked parents to notify the school nurse if their child is sick.
"Things of this nature, when it hits, and if it is viral or a virus type of thing, you'll be symptomatic 24 to 72 hours," O'Connor said.
Though unpleasant, illness outbreaks in schools are not unheard of. Just recently, a norovirus outbreak affecting more than 100 people was confirmed at Berean Christian School, O'Connor explained.
"But, again, they followed all of the recommendations, kept their students home, kept some students home from field trips, did the hand washing, and now they're back open for regular business. They have been for a couple of weeks now."
Usually these sort of things resolve themselves within two weeks at schools, O'Connor explained, noting that the upcoming spring break should help.