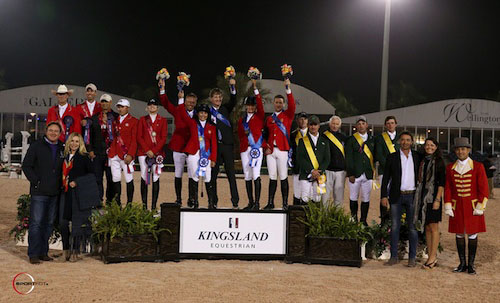 The 2015 Winter Equestrian Festival hosted its $100,000 Nations Cup, presented by Kingsland Equestrian, last Friday evening with a victory for the home team at the Palm Beach International Equestrian Center in Wellington.
Teams representing nine different countries participated in the competition, with a win for Team USA over Canada in second and Ireland in third.
The Nations Cup competition consisted of two rounds shown over a course set by Anthony D'Ambrosio. Teams of four represented the United States, France, Mexico, Brazil, Ireland, Venezuela, Colombia, Argentina and Canada. After the first round, each team dropped their highest score. In the second round, the top six teams returned in order of highest to lowest total faults. The winner was determined by the lowest total of each team's top three riders from each round.
The winning team from the United States included Todd Minikus riding Two Swans Farms' Babalou 41, Candice King aboard Bellissimo LLC's Kismet 50, Margie Engle with Elm Rock Partners LLC's Royce and McLain Ward with Double H Farm's HH Carlos Z, led by Chef d'Equipe Robert Ridland. The team had a perfect score of zero in round one and finished with eight faults in round two.
Minikus was the first competitor to jump for Team USA in each round and scored double clear rounds with Babalou 41, a 10-year-old Oldenburg mare. King and Kismet 50, a 14-year-old Belgian Warmblood mare, jumped clear in round one and had one rail down in round two. After clearing round one, Engle added four faults to the tally in round two with Royce, an 11-year-old Oldenburg stallion. As the anchor rider following great rounds from their teammates, Ward and HH Carlos Z never had to jump.
After coaching his team to victory, Ridland proudly spoke of their success. "We have always said that winning our own Nations Cup is one of our biggest priorities," Ridland said. "We won it two years ago, and we won it again tonight. We had a good performance two weeks ago and won the points in the league, but this is where we have had a Nations Cup with longstanding tradition and great crowds. What was really gratifying was to do these relatively back-to-back Nations Cups with eight different riders and eight different horses. We saw the depth of our team out there, and that is what we are trying to go for in the future. I could not be happier."
Leading his team to victory, Minikus was on a less experienced horse in Babalou 41, but he had great confidence in his horse's talent going in.
"Obviously, Quality Girl has been my No. 1 horse for the past two years, but I asked Robert for permission to use Babalou in this Nations Cup, and he was kind enough to agree," Minikus said. "Although she is quite green, I think she has a big future, and I wanted her to get this exposure and this experience, and that worked out quite well for her."
Candice King had a more experienced mount in Kismet 50 for the night and was happy with two good rounds to contribute to the team's win.
"Coming into tonight, I talked with Robert, and we made a good plan. My biggest thing was having her conditioned and ready," King said. "I was very excited, and I know what the team event is about, so I tried to come in here as strong as we could and put in a good, solid performance like we did. I am very happy with how it went. I have to say thank you to the Bellissimo family for giving me the opportunity when they wanted to change the rider of Kismet."
Engle was also pleased with her rounds aboard Royce to aid in a U.S. win as one of the most experienced riders in the evening's competition.
"He went great. He felt like he was actually going to be better the second round," Engle said. "He's a trier. He's really laid back. It is easy for him."
Although he did not have to jump any rounds, Ward was there for his teammates with advice and support throughout the night.
"The Nations Cup is always a very hard thing for the course designer to build because you have a pretty large variety in the level of riders," Ward said. "There are some of the strongest in the world, and then you have some emerging countries looking for opportunities to compete at this level. You want to test the best ones without having the less experienced horse and rider combinations do too badly. I think he did a good job."
Finishing behind USA, Team Canada placed second with 12 faults total. Tiffany Foster and Artisan Farms LLC's Tripple X III led off with a clear round and dropped one rail in round two. Jonathon Millar and Millar Brooke Farm's Calvin Klein had four faults in each round. Eric Lamaze and Artisan Farms LLC's Coco Bongo had a rail in round one, but came back clear in the second round. Ian Millar and Susan and Ariel Grange's Dixson dropped two rails in their first trip around the course, but returned with a clear in round two. They were led by Chef d'Equipe Mark Laskin.
All of Ireland's riders had faults in the first round, but they came back with two clear trips in round two and finished third on a 16-fault total. Darragh Kenny and Hyperion Stud LLC's Imothep had four faults in round one and the drop score of eight in round two. Shane Sweetnam and Spy Coast Farm LLC's Chaqui Z had the drop score of eight in round one, but came back with a clear in round two. Cian O'Connor and Adena Springs' Quidam's Cherie had four faults in round one, but also returned with a clear their second time around. Kevin Babington and Shorapur LLC's Shorapur scored four faults in each round. Their Chef D'Equipe was Robert Splaine. The remaining teams were Venezuela in fourth place with 20 faults total, Mexico in fifth with 28 faults overall, and France in sixth with a 30-point total.
For more information, and a full schedule of events, visit www.equestriansport.com.
ABOVE: Team USA takes the top podium during the awards ceremony. Photo by Sportfot