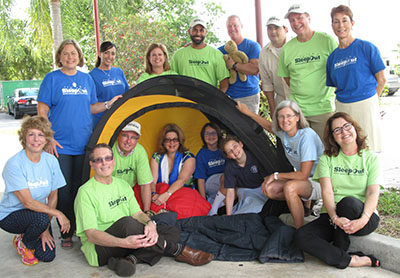 Whether choosing to SleepOut overnight at the Meyer Amphitheatre with hundreds of others — or selecting to SleepIn in your own backyard or living room — everyone is invited to participate in the Lord's Place SleepOut/SleepIn 2015.
The events benefit the Lord's Place, a leader in breaking the cycle of homelessness in Palm Beach County for more than 30 years.
Michelle and Bob Diffenderfer, both shareholders in the law firm of Lewis, Longman & Walker, and their daughters, Hope, 12, and Lilly, 10, have participated in SleepOut nearly every year since it started eight years ago. This year, the Diffenderfers are co-chairing SleepOut.
"We know how important it is for all of us to help those in need in our community," Michelle Diffenderfer said. "The homeless are among the most vulnerable among us, and the Lord's Place has an impressive track record in changing lives and restoring those who are homeless to a position of pride and productivity."
Bob Diffenderfer added, "We feel it's important for our daughters to participate in helping others and to understand that everyone deserves respect, whatever their station in life."
SleepOut will take place Friday, April 17 at the Meyer Amphitheatre in downtown West Palm Beach at Flagler Drive and Datura Street.
Registration begins at 6 p.m., followed by music from 6 to 8 p.m., and an inspirational program and candlelight ceremony from 8 to 9 p.m., and then a major motion picture related to homelessness will be shown on a giant screen from 9 to 11 p.m. Then it's lights out until a closing meditation at 7 a.m.
Metered parking is available on public streets free from 7 p.m. to 7 a.m. with parking also available at city rates in the public garage at Evernia Street and Olive Avenue.
Restrooms and security are provided, and food will be available for purchase from the Lord's Place Café/Joshua Catering. A silent auction will also be held on site from 6 to 8 p.m.
Everyone is encouraged to form or join a SleepOut Team. The registration fee is $25, and each team is encouraged to get donations for their team from family, friends, neighbors and co-workers to help the Lord's Place reach this year's SleepOut fundraising goal of $200,000.
Register, join or support a SleepOut team at www.thelordsplace.org/sleepout or call (561) 537-4660.
For those neighbors and friends who can't join in the SleepOut event at the Meyer Amphitheatre but want to help their vulnerable neighbors, there is the SleepIn option this year. Register to SleepIn at sleepout.thelordsplace.org/donate. Those participating in SleepIn are asked to donate the amount of one hotel night stay: motel level, $50; hotel level, $100; suite level, 500; or penthouse level, $1,000.
Those sleeping in are asked to post a photo or video on Instagram and Twitter of their SleepIn in their home or backyard with the hashtag #SleepOutWithUs and to challenge their friends, families, co-workers and neighbors to do the same.
Sponsors for SleepOut/SleepIn 2015 include Searcy, Denney, Scarola, Barnhart & Shipley, Attorneys at Law; Brinkley Morgan, Attorneys at Law; Braman Motorcars of Palm Beach; the Royal Poinciana Chapel; the Gehring Group; Tablecloth Company; Celedinas Insurance Group; FPL; Republic Services; Valley National Bank; Belcan; Around the Edge Custom Picture Framing; KW Commercial; Matrix Mediation; Lewis, Longman & Walker, Attorneys at Law; Theodore & Marie Deckert; Gordon Food Service Store; and Ed Tancer.
ABOVE: Members of the SleepOut committee include: (front row) Pamela McIver, Dennis Freeman, Bob Diffenderfer, Michelle Diffenderfer, Hope Diffenderfer, Lilly Diffenderfer, Cornelia Thornburgh and Diana Stanley; and (back row) Anita Scarola, Nina Hamad, Jennifer Loyless, Daniel Gibson, Mark Montgomery, Blake Vogele, Robert Barrett and Maria Marino.