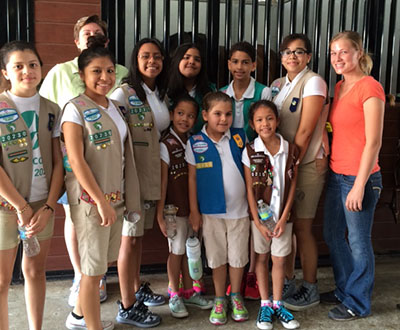 The Caridad Center's Girl Scout troop was treated recently to a taste of the "Five Star Horsemanship Program" offered at the Palm Beach Riding Academy in Wellington.
Katherine Bellissimo of Equestrian Sport Productions, Sean Jones of the PBRA and equestrian Caroline Moran, a Caridad board member, arranged a fun day March 21 to give the girls a well-rounded lesson in horsemanship.
The four-hour program allowed the 10 troop members to learn the basics of maintaining horses and equipment, preparation for competition, and veterinary treatment for minor injuries and diseases.
The girls started off the day by grooming and bathing the horses and learning the essentials of preparing them for the show ring. After a short lunch break, they headed over to the Palm Beach International Equestrian Center to observe the jumping competition and learn what the judges are looking for in a perfect hunter round.
Afterward, the troop was given a behind-the-scenes tour of the Palm Beach Equine Clinic, where they were given a brief description of common equine injuries and diseases and their treatments.
Moran was very excited about the partnership between the Caridad Girl Scout troop and the PBRA.
"This was not only a fun day for the girls, but they were able to witness some of the behind-the-scenes horse care that few outside our industry get to see," she said. "This was a unique learning experience, and I am happy we were able to arrange it for them."
Caridad Center Social Services Director Scarlett Fave, the Girl Scout troop leader, was grateful for the experience.
"The Five Star Horsemanship Program was a great opportunity that the girls will never forget," Fave said. "Through a lot of hard work, cookies and product sales, many fundraisers and the generosity of organizations such as the Caridad Center, the Girl Scout troop has been on a number of wonderful adventures like this."
The Girl Scout troop and the troop mothers volunteer at all of the Caridad Center's social services events, including the Back To School Bash, the Thanksgiving Turkey Drive, Meet Santa Day, sign-ups for Adopt-a-Family and family health fairs.
To learn more about the Palm Beach Riding Academy, visit www.palmbeachridingacademy.com
The Caridad Center, the largest free healthcare clinic operated through volunteer providers in Florida, serves the working poor and recently uninsured throughout Palm Beach County. More than 400 doctors, dentists and other medical professionals donate their time and provide services valued at over $3.2 million a year. Caridad provides more than 26,000 patient visits each year.
The Caridad Center is located at 8645 W. Boynton Beach Blvd. To support Caridad, contact Dollene Ewing at dewing@caridad.org or (561) 853-1638. For more information, visit www.caridad.org.
ABOVE: Caridad's Girl Scout troop enjoyed the equestrian program.